Why Video is a Must Have for Any Creative Strategy
1341661060, brightstars | 1214808306, RLT_Images
Creating video content can seem like an overwhelming task for your business. Your brand may be hesitant about timelines, bandwidth, and cost. But, video is one of the most powerful ways to connect with your audience and drive engagement, so creating videos can really move the needle for your business. In this article, we'll cover all the ways video can bring you serious ROI.
And, because iStock brings you incredibly immersive clips—including 4K footage—creating video content is easy. And licensing the video clips you need on an ongoing basis couldn't be easier with iStock's new Premium + Video plan.
How Video Brings Your Marketing to the Next Level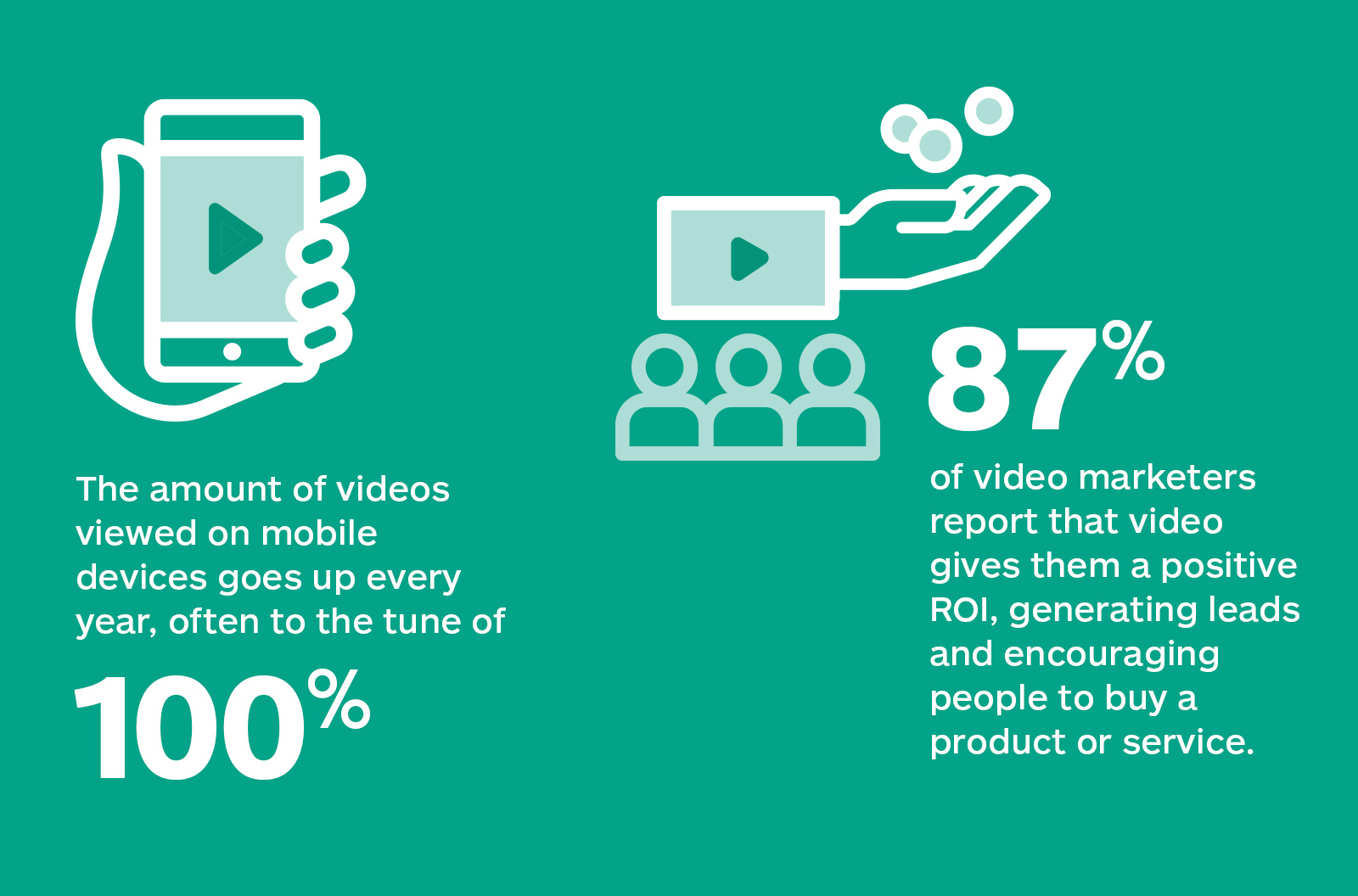 Video may seem like it's just a channel built to entertain, but here are some tips to make it a tactical marketing tool for your brand:
Deliver your message: According to Wordstream, people retain 95% of a message when it's in a video, but only 10% when they read it in an article.
Stay ahead of the game: The amount of videos viewed on mobile devices goes up every year, often to the tune of 100%. (Insivia)
Keep up with your competition: On average, businesses publish 18 videos each month, so publishing your own videos helps you to stay competitive. (HubSpot)
Future proof your content: By 2022, online videos will make up more than 82% of all consumer internet traffic. (Cisco)
Keep your message focused: Videos under two minutes long get the most engagement. (Wistia)
Get real return on investment: 87% of video marketers report that video gives them a positive ROI, generating leads and encouraging people to buy a product or service. (HubSpot)
How iStock can help: We're always updating our galleries and curating new collections to help you find inspiration. Plus, with smart search tools letting you filter by duration, resolution (4K or HD), ethnicity, and more, you can find exactly what you're looking for in a clip.
How to Stand Out on Social Media with Video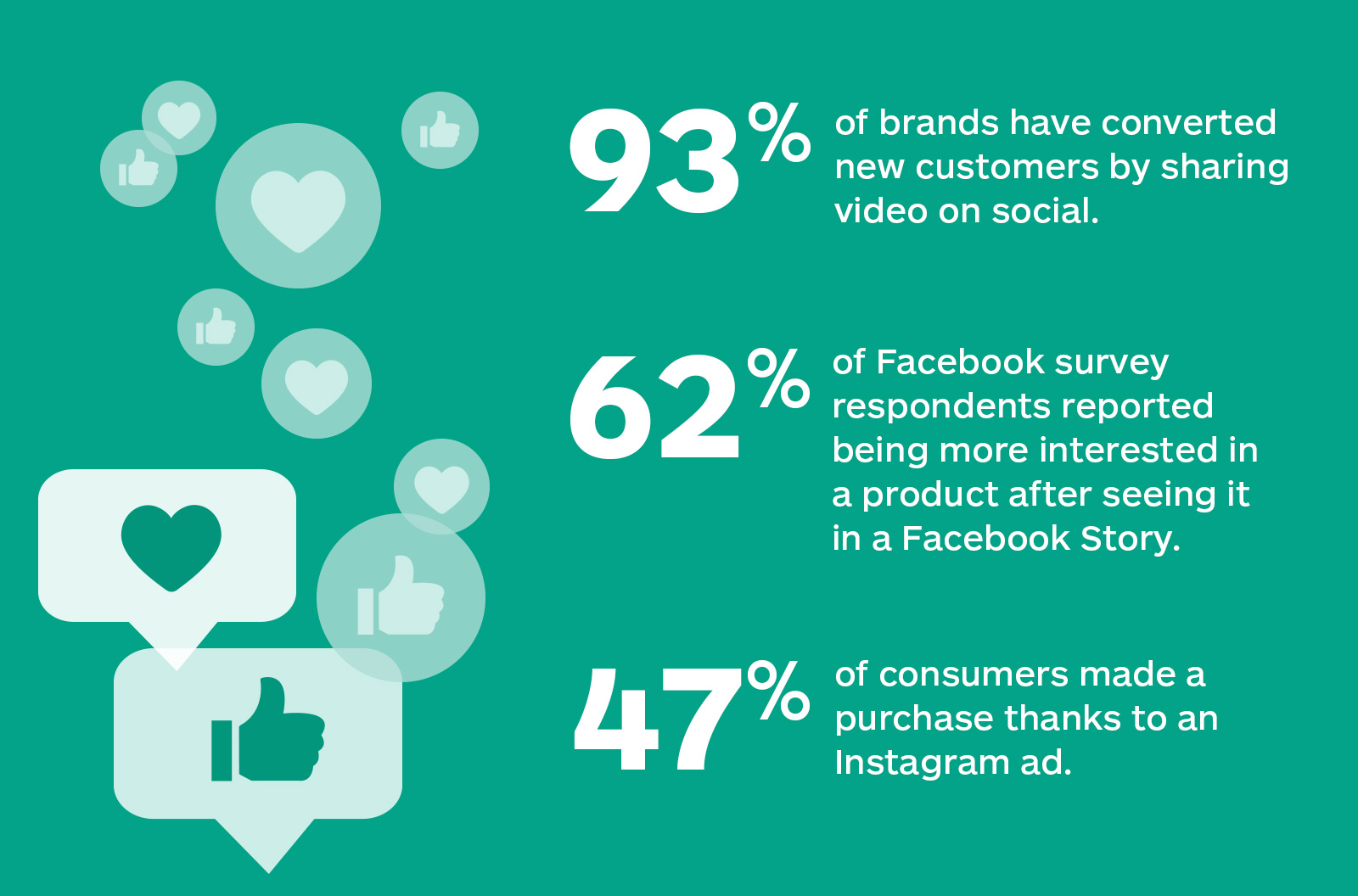 Creating a dedicated video strategy isn't just a great move for your brand, it's a powerful way to stand out on social media. According to Hubspot, 93% of brands have converted new customers by sharing video on social. That's because social posts with video get 48% more views, and according to G2 Crowd, you could get a huge spike in shares. Now let's drill down on each platform with some key stats on how video can help you capitalize from Facebook to Twitter and beyond.
Facebook
Facebook gets over 8 billion video views per day. (TechCrunch)

62% of Facebook survey respondents reported being more interested in a product after seeing it in a Facebook Story. (Hootsuite)

85% of Facebook videos are watched without sound. (Digiday)
Twitter
Twitter receives over 2 billion video views per day. (Twitter)
Video shared directly on Twitter is almost 3x as likely to be retweeted.
Instagram
Instagram users spent nearly 30 minutes browsing the platform per day, on average. (eMarketer)

47% of consumers made a purchase thanks to an Instagram ad. (Animoto)

60% of Instagram Stories are watched with the sound on. (Hootsuite)
LinkedIn
Video marketing campaigns on LinkedIn can generate view rates as high as 50%. (LinkedIn)
Video is shared 20 times more often than any other content formats in the LinkedIn feeds. (LinkedIn)
The best length for LinkedIn videos is 45 seconds, but longer videos can also drive strong engagement. (LinkedIn)
How iStock can help: Whether you start with a theme like "Lifestyle," "Fitness," "Food," or "Family," remember that "Authenticity" is important. Thankfully, our team curates images that feel real and resonate with a wide audience.
How Video Helps Drive Engagement on All Channels
Wherever your audience is watching—and whether your business takes a B2B or B2C approach—video will help you drive serious engagement. Here's how:
How iStock can help: With a wide range of stock footage that's all royalty-free, iStock's selection of clips can be used in virtually any project, as often as you like, within license terms. That means you can choose from millions of videos to feature on your blog, website, social channels, and other content efforts.
How Videos Connect with Consumers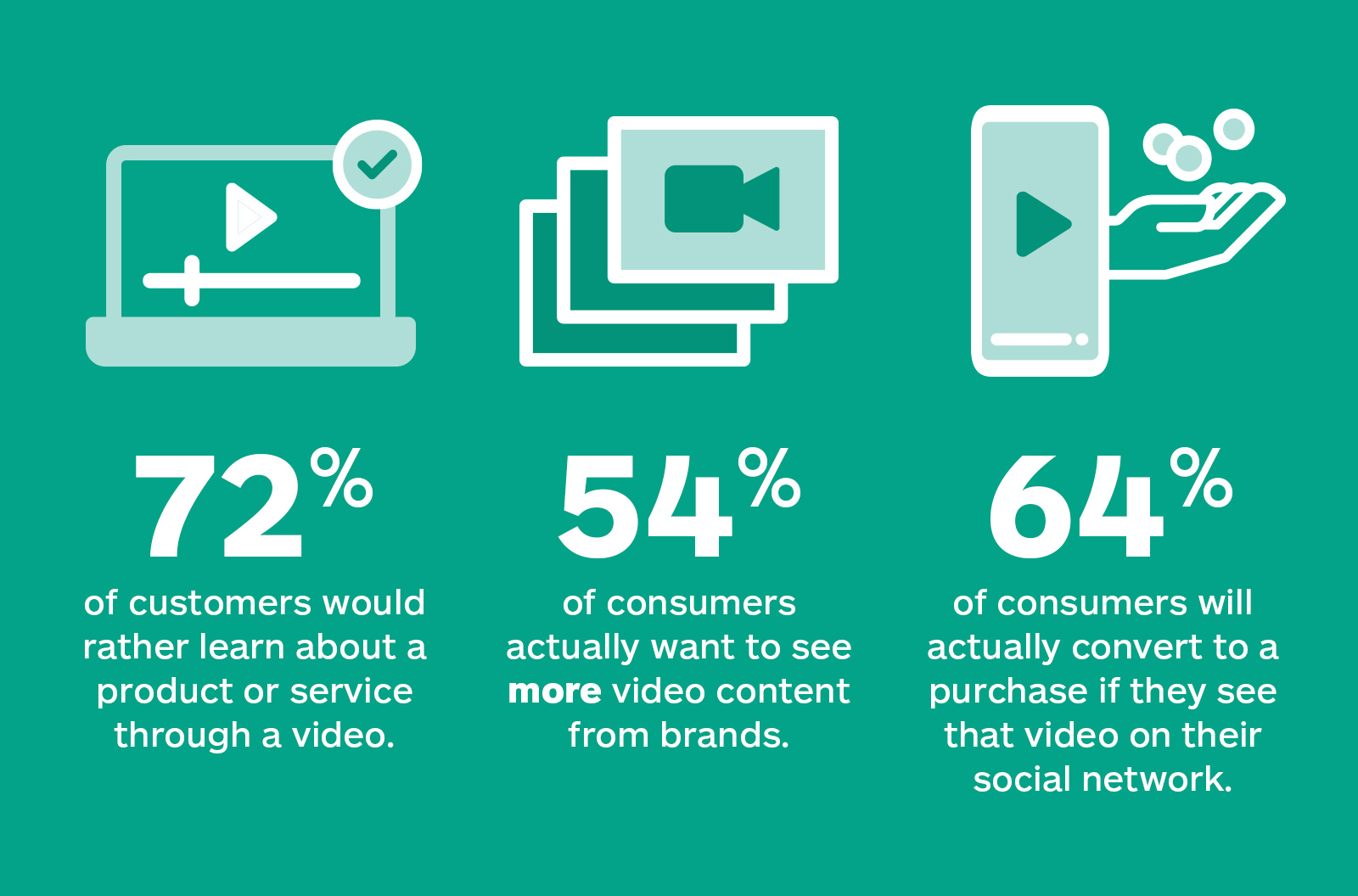 If your brand focuses on a B2C audience, video is a hugely powerful channel for driving sales. According to YouGov, 72% of customers would rather learn about a product or service through a video. On top of that, Invideo found that 54% of consumers actually want to see more video content from brands. Additionally, 64% of consumers will actually convert to a purchase if they see that video on their social network (Wordstream). Not only do videos resonate with your customers, they likely want to see more from you.
How iStock can help: Appeal to a variety of audiences with our rich collections, spanning from location-specific video galleries like "Nature" and "New York" to particulars like "Travel," "Adventure," "Sports," "Architecture," and beyond.
Bring Your B2B Customers Value with Video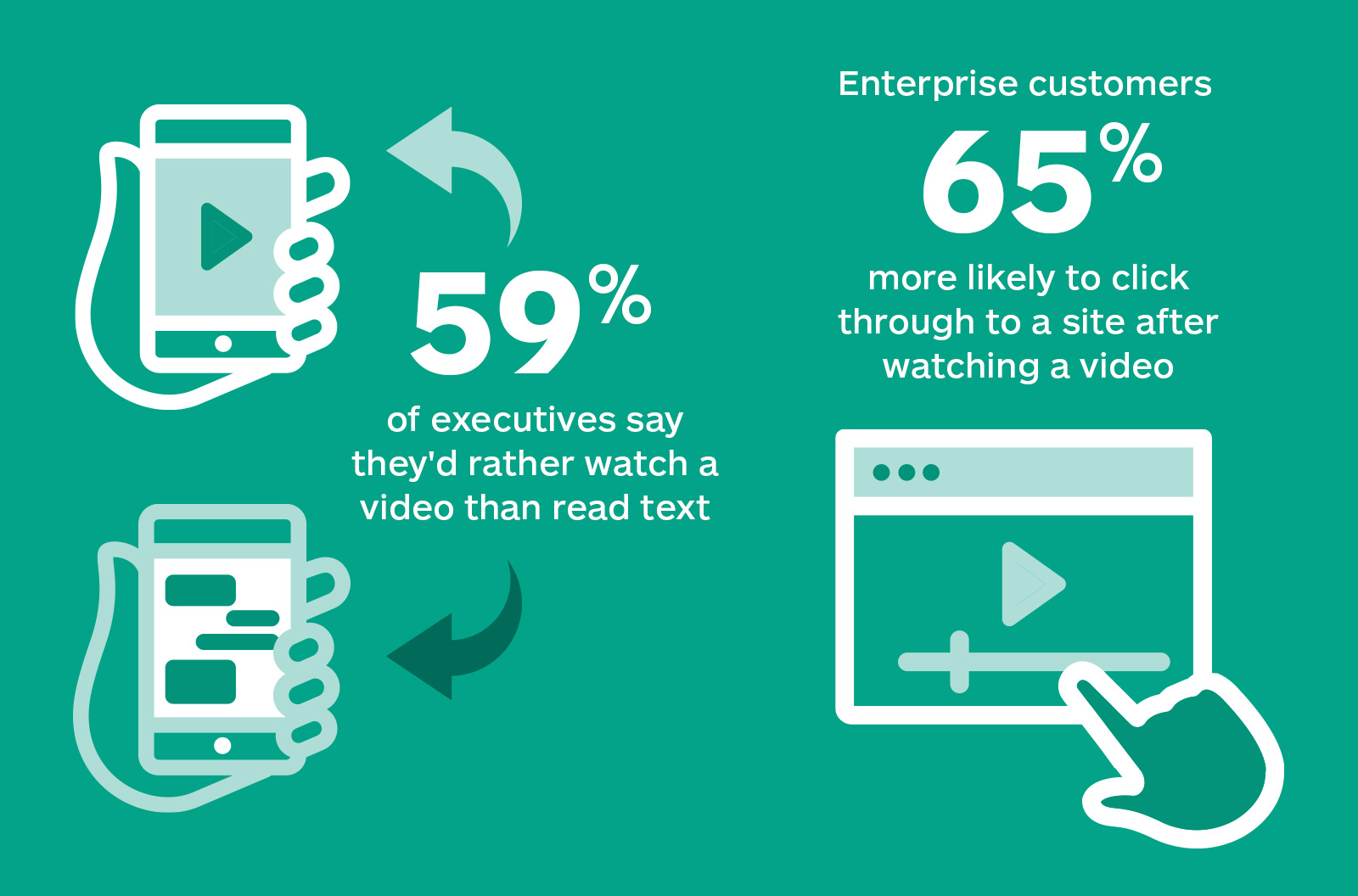 When businesses are your customers, your product or service needs to show real tactical value. But executives are busy, and according to Wordstream, 59% of them say they'd rather watch a video than read text. Based on Forbes research, enterprise customers are 65% more likely to click through to a site after watching a video. In other words, video isn't just for entertainment—it can be an exceptional enterprise tool as well.
How iStock can help: Browse our incredible array of Business and Finance video clips, as well as footage focused on Science and Technology. Abstract videos can also provide an engaging visual background for delivering complex messages while setting an effective mood.
Move the Needle with Video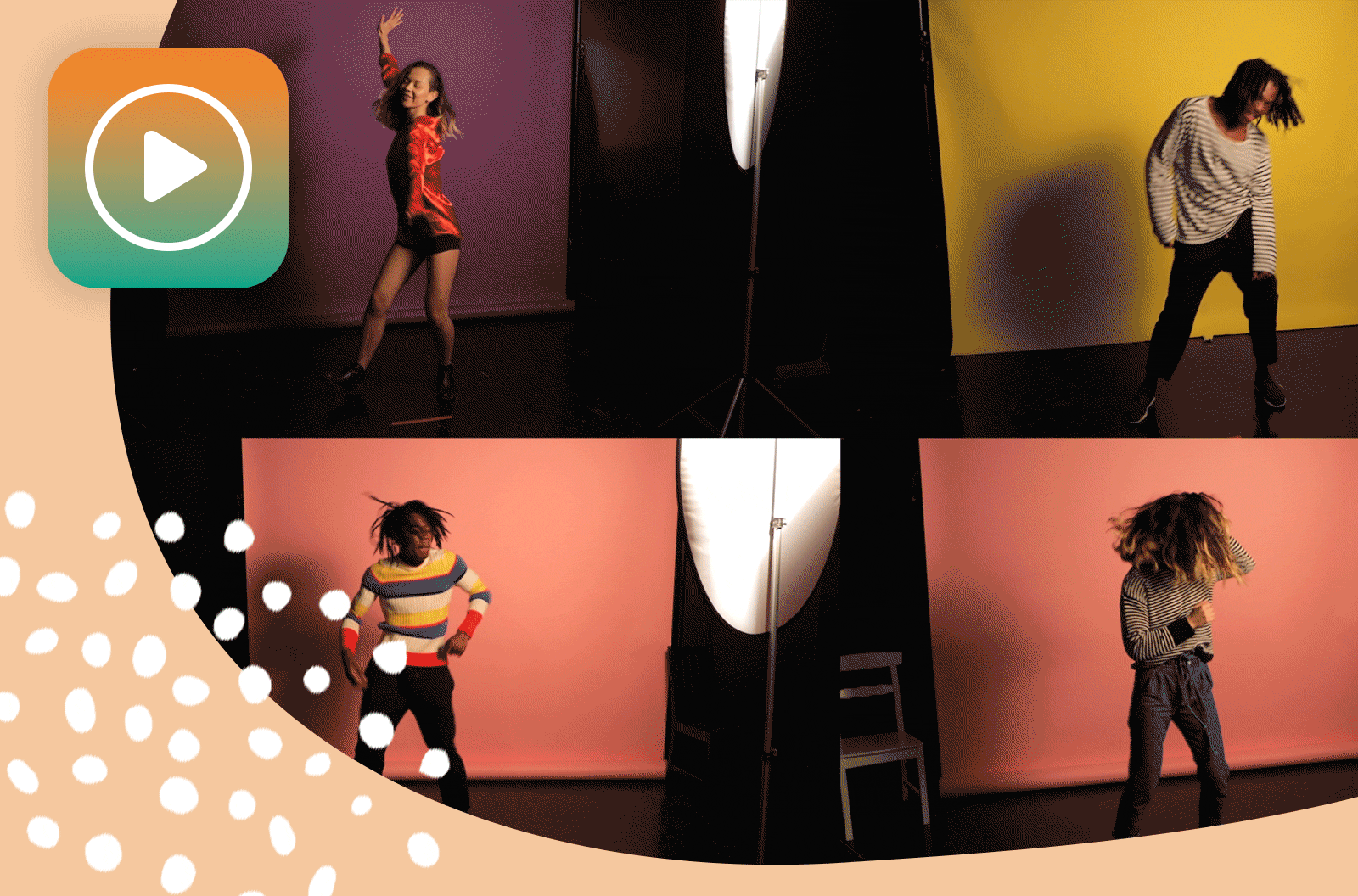 Video remains one of the most effective ways to engage your audience, and help them retain your brand messaging. It's also a great way to amplify your message through natural, organic social sharing. A single video can be re-mixed and re-used in a number of inventive ways across channels, turning a small investment into endless possibilities.
Skip the cost of a full video shoot and create a visual masterpiece with iStock's extensive collection of 4K and HD footage, clips, and stills.
Was this article helpful?