The Mobile Marketing Strategy Guide: 4 Things You Can Implement Right Now
With the dramatic growth in mobile device usage, your brand has the ability to reach consumers anywhere they go. And a positive mobile experience has the power to impact an immediate sale and shape your customer's entire relationship with your brand.
Mobile-first marketing is crucial for engaging customers, as nearly 50% of all internet traffic in the United States today originates from a mobile device. That's true for both online businesses and brick-and-mortar shops: nearly two-thirds of shoppers complete purchases in-store, but 39% of those shoppers started their shopping on a mobile device.
Here are some expert tips on choosing the right visual content for mobile and using that content to design mobile-first emails, post on social media, and create a mobile-optimized website.
Choose Visual Content Designed for Mobile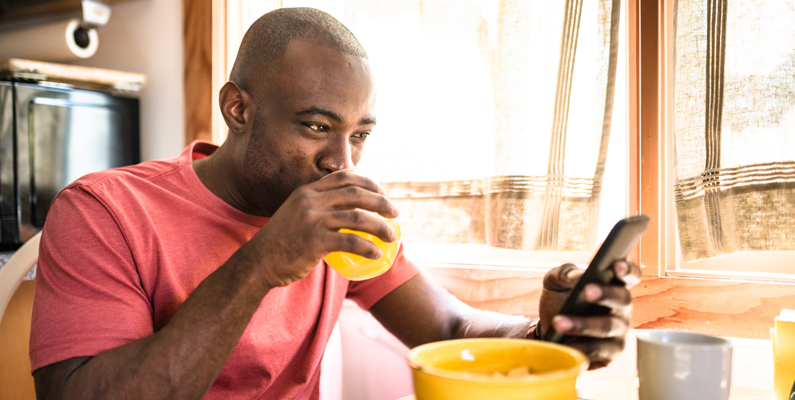 639830786, franckreporter
From photos and icons to video, providing an engaging customer experience on mobile all starts with the visual content you choose.
Photos and Icons
High-quality photos are just as important on mobile as they are on desktop, and you'll need them for emails, social media, and your website. The trick? Getting the proportions right.
"A landscape image is not going to be as large or as easy to see, but there's more room to show a heading and CTA," begins Lisa Moses, a graphic designer and art director based in Brooklyn. "Whereas if you have a square or portrait image, it will be larger and easier to see, but you may not have enough room to have your heading and CTA above the fold."
Still, she recommends choosing images that capture the right energy that you can fit appropriately in the space. "For desktop, you may have a big image of a group of people, and crop it for mobile so there are one or two people showing, giving it a stronger focal point."
Icons are also something that lend themselves really well to mobile. "They don't take up a lot of space," Lisa explains. Try using familiar icons to guide users where you want them to go. Use them to support copy, but also reduce the amount of copy you need.
The biggest thing she stresses is resizing images for mobile. "If you design for desktop and don't have proper mobile design, the same image will just carry through to mobile. And that's when images could slow the experience," she cautions. "It's all about finding that balance between making sure images look good and load fast."
Videos
By 2021, it's estimated that the average person will spend 100 minutes per day watching videos online. And more than half of video content is consumed on mobile.
Businesses are using video throughout every stage of the customer journey to engage their audience and give customers the information they need to know in a way that they want to consume it.
And it's not only B2C brands. A whopping 70% of B2B consumers watch a video at some point before making a purchase. So, for both audiences, video boosts the chances of the consumer buying your product.
With easy access to high-quality video footage, your business can create videos that make your message more memorable. Consumers can recall 95% of a message they watch, but only 10% when reading text.
While social media is a natural place to include video in your marketing strategy, you can include it on your website and email. Landing pages with a video can increase conversions by 80%, and just including the word "video" in your email subject line can increase open and clickthrough rates.
However, you'll want to check how fast your webpages load, as it's one factor in your website's Google search ranking. Mobile devices are often connecting to less reliable networks than desktop computers, which can make for a slower experience. Many users will abandon a website if it takes more than a couple of seconds to load. And some of those customers may never return.
Tips:

Choose images that have a strong focal point that appropriately pairs with the messaging.
Add subtitles to video so users can follow your message with or without sound.
Analyze webpage speed using Google's PageSpeed Insights tool.
Find the suite of icons that matches your branding and use them to quickly convey information.
Once you have the right photos and videos, you can incorporate them into your mobile content marketing strategy to ensure your customers remain your biggest fans.
Design Your Emails for Mobile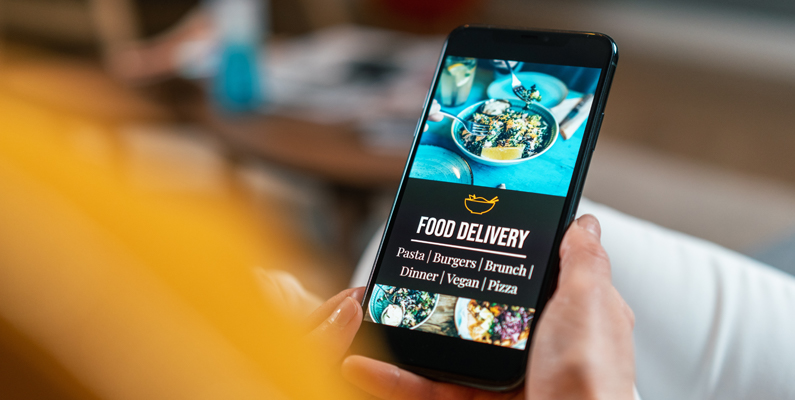 821223049442, filadendron
Looking at email open rates across the board, mobile accounts for at least 50% of all opens. Of course, depending on your audience and industry that number will fluctuate, but if you design for mobile, chances are it will look fine on desktop. The same can't be said of the reverse.
For Kate Lowe, owner of Shimmer, a clean and ethical beauty shop, designing mobile-first emails is a must when about 80% of her emails are opened on mobile.
"Small businesses have always struggled to compete with major brands," she explains. "People expect the whole package—all the service they get from a bigger brand, only it's me doing it on a smaller budget. If you send an email that isn't mobile-friendly, they're not going to take you very seriously."
In fact, if an email doesn't display well on mobile, more than 70% of users will delete it within seconds, with some even going as far as to unsubscribe from your list.
Lisa recommends A/B testing, too. "You may love a certain color palette, but people may not click as much. It's usually the CTA with the most contrast that gets clicked."
Tips:

Use the iStock Editor tool to quickly and easily resize images to the pixel width and height you need.
Send test emails; many email service providers allow you to send tests to see how emails will look on different devices and operating systems.
Post Consistently on Social Channels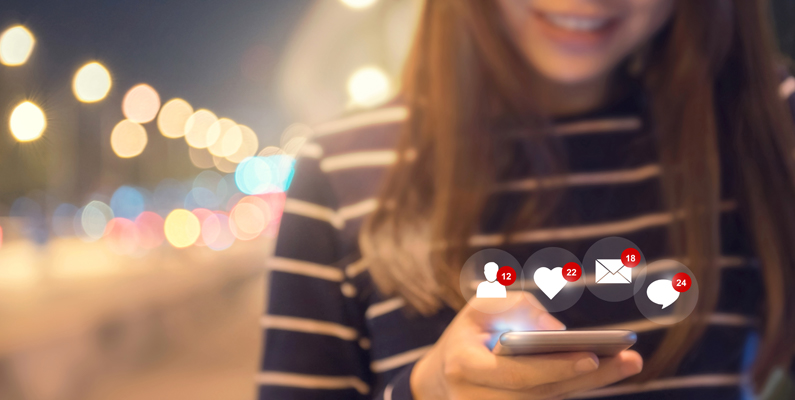 935483012, oatawa
The Facebook app alone has 2.45 billion users as of Q3 2019. And, as of April 2020, 78% of Facebook's traffic was via mobile only (20% of users access the app via their phones and computers).
The majority of American users, a whopping 78%, have found products for purchase because of Facebook. The data also underscores the importance of visual content in social media: posts with images generate 84% more click-throughs than text-only posts.
But it's essential to know your target audience to ensure you're posting the right content on the right platform. Kate's customers cover a broad age range, and while her shop has four times more followers on Instagram than Facebook, she receives the same amount of traffic to her website from both platforms. This makes it essential to maintain a strong presence on both platforms.
"People need to see something multiple times before they decide to buy something," Kate explains. "It's easy to post on Instagram and the next day think 'how I have not sold that?' I have to constantly remind myself that people aren't on my Instagram as much as I am."
"Brands have a hard time remembering the social part of social media," she continues. She's made it a priority to build the social aspect into her brand. "I wanted to get people engaged without constantly selling them a product," she says. But even if it's not selling a product, it keeps her posts showing up in people's feeds and, therefore, keeps her brand top of mind.
No matter what you're posting, you want to make sure it serves a purpose. "The imagery should all work together to build a story about the brand," says Lisa, noting when you look at an Instagram or Facebook feed, it should all feel visually cohesive.
Tips:

Make sure you have access to tons of high-quality images and videos in order to post multiple times a day on social media platforms.
Resize images for Facebook, Instagram, Twitter, and Pinterest in one click using the iStock Editor.
Build a Mobile-First Website Experience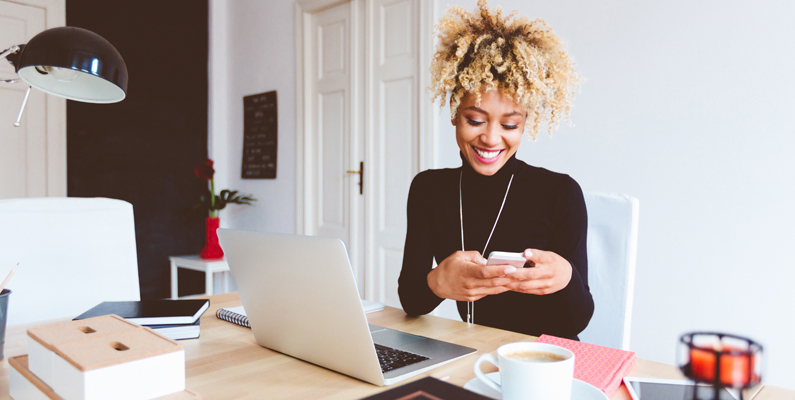 587808326, izusek
With Google switching to mobile-first indexing, your website needs to follow mobile-first best practices in order for it to rank favorably in searches.
While a responsive website is good, it's still designed with desktop users in mind and then adjusted to work on mobile. Websites designed specifically for mobile, on the other hand, take into account what mobile users—aka the majority of internet users—need first.
It's particularly true of any page you're driving your users to from your emails or social media posts, given most people are engaging with email and social media from mobile devices. Otherwise, you risk having a high bounce rate and almost guarantee user frustration.
"As a designer, both desktop and mobile are important," says Lisa. "Mobile is more of a quick snapshot of what's going on. With desktop, you can luxuriate in the experience more."
There are a few things you need to consider on mobile versus a desktop: Are the CTA buttons big enough? Does the font size make the text legible? Visual mobile marketing trends include bold shapes and significant white space so users can more easily navigate the site on smaller devices.
"It can be quite tricky to do everything you need to do, but in a smaller space," Lisa adds. And it is important to do everything you need to do—if your mobile site has less content than your desktop site, it may impact your search ranking.
"There's always a conversation about whether the contrast is enough," continues Lisa. "It's important to have enough contrast so, for example, those with poor eyesight, can still access the content."
And one more thing—if your goal is to make sales on mobile, it's important to reduce the number of steps it takes for someone to complete the action you want them to take; each step that requires a new page to load is another chance someone will bounce.

As you begin to implement or ramp up your mobile marketing efforts, make sure you have access to high-quality content that can tell your brand's story even on the smallest screen. Start your search for images and videos on istock.com today.
Was this article helpful?