Learn with iStock: All you need to know about stock footage, image licensing, and file formats
Working with iStock by Getty Images can save you time and money on your next big project, but it's important to learn the basics and understand how stock footage, image licenses, and file formats work.
Stock video: What it is, where to find it, and how to use it

What is stock footage?
Stock footage is existing video footage that can be licensed for use in your own projects. Sometimes this footage is referred to as stock video or B-roll. Stock footage can be anything from a quick clip of cute kittens to a location shoot at the Taj Mahal to an archival video of historical events.
While stock footage can be archival public domain video, it's often original footage created by filmmakers and videographers who license their work for use in a variety of projects. This arrangement allows artists to maximize the revenue they earn from their work, which can be costly to produce. For users, stock footage helps achieve maximum results without having to incur expensive video production costs.
For stock footage to be suitable for a wide range of purposes, artists at iStock are required to submit videos that don't contain copyrighted or trademarked materials like logos and brands. They also must include property releases, as well as model releases for people featured in their videos. This approach protects you and allows the videos to be used for various projects.
Essentially, stock footage is an effective and affordable option for projects requiring video, whether it's a website, presentation, or commercial ad. Finding the right stock footage is the first step in creating exceptional content.
See our stock video guide for a more in-depth look at stock footage.
Where to find stock videos?
Sourcing high-quality stock videos is easier than ever. Finding the right clip means utilizing the right service, from public domain archives of video footage to stock video sites like iStock.
A good starting place, particularly if you're looking for historic clips in the public domain, is the Internet Moving Image Archive, which has a vast collection of more than 6 million videos. These videos are either part of the public domain or have a Creative Commons (CC) license, allowing you to download and use them for most projects. Before using video from this site, be aware that the Internet Moving Image Archive does not guarantee copyright status, so make sure you investigate further.
Creative Commons is a nonprofit organization that has created a system for copyrighted work to be shared for free, with certain conditions. CC licenses range from requiring attribution for the creator to prohibiting commercial use. Another CC license allows artists to relinquish their copyright and release their work into the public domain. Creative Commons stock videos can be found on Vimeo, Wikimedia Commons, and YouTube, along with Europeana, a European archive site.
In addition to archival video and video sharing sites, you can find stock video footage on a number of free stock footage sites. Some sites specialize in 4K footage, while others focus on aerial shots, green screen mockups, nature scenes, and video conference backgrounds.
Then there are sites like iStock, which has a large library of stock video footage that can be licensed worry-free at affordable prices.
Learn about the benefits of using paid stock footage over public domain videos.
How to use stock video footage
How you use stock footage is limited only by your imagination—and perhaps your video editing skills. Some videographers rely on stock video to help stitch their primary footage together, while others might create a video entirely from stock footage.
Key ways stock video footage is used:
B-roll: B-roll is footage that supplements your story with establishing shots, cutaways, and transitions. For example, documentarians often use b-roll stock footage to illustrate on-camera interviews. As the subject talks, the action cuts away to video to dramatize what they're saying. This technique can be employed in any video project. B-roll provides context, keeps viewers engaged, and helps get your message or story across.
Primary footage: Stock video can serve as the main footage for any project. The key is to choose the best video to tell your story and edit it together seamlessly, so it conveys a mood, a story, or a message. Most stock sites allow you to search by keywords. For example, if you want an upbeat message for a marketing project, you can search "happy" and "hope" to find videos that capture the right mood and use text, music, and voice-over to bring it all together.
Background: Video clips can be used as a background in a variety of ways. A looped clip with no audio can be overlaid with text for dynamic engagement with website visitors. You could also animate a video message by adding a textured video background behind the speaker—this could be a globe, a digital matrix, outer space, or anything that provides context to your message.
Learn more about when and why to use stock videos.
Is stock footage copyrighted?
Stock footage falls into two categories: copyrighted and public domain.
The term copyright means the work is original, owned by the creator, and/or protected by intellectual property law—essentially, to use copyrighted work, you need permission from the rights holder. To use copyrighted stock footage, you have to purchase a license. The creator's ownership is still protected, and you are granted certain video usage rights, which should be clearly outlined in the license agreement.
Not all stock footage can be used for commercial use. For instance, some videos may not have model or property releases or may contain brand logos or other third-party trademarks. These videos can be restricted for "editorial use only," which means they can be used to illustrate a news story but not to sell or market a product or company.
Public domain videos are not copyrighted. Most of the time it's because the original copyright expired. But sometimes creators relinquish their copyright, as with a Creative Commons license, and release their work into the public domain to be used freely. Stock footage created by government entities, like NASA and the National Park Service, automatically becomes public domain.
Public domain footage generally can be used freely with no restrictions, but it's important to make sure the footage is in fact not copyrighted. Remember though, Creative Commons licenses often require some form of attribution, and if any public domain content includes an identifiable person, any use for commercial purposes may infringe that person's right of privacy or publicity, and permission should be obtained from the person. The US Copyright Office has resources that can help you investigate a work's copyright status.
Learn how to choose the best royalty-free stock videos for your project.
Image Licensing:  How to find and buy images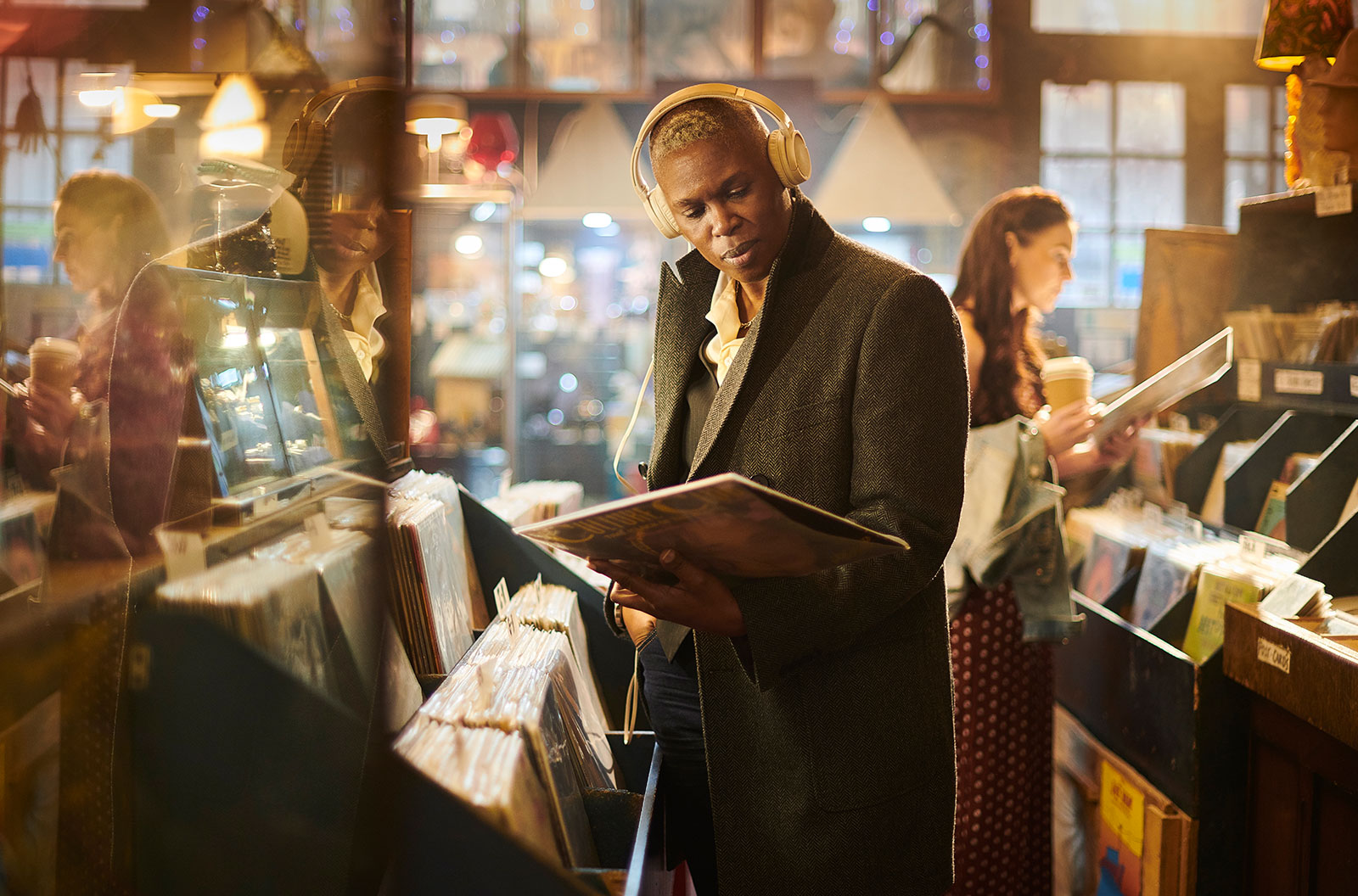 What are stock photos?
Stock photos are existing photographs that you can purchase a license to use. Created by professional photographers, stock photos run the gamut of subject matter—no matter what you're looking for, you can probably find a stock photo of it.
Stock images aren't limited to photography. Illustrations and icons can be found in a wide range of styles and subject matter. The creative possibilities are endless for designers looking for compelling stock images. At iStock, for instance, you can find business and food illustrations alongside conceptual still-life pictures, funky vintage photos, majestic shots of nature, and abstract background images.
For designers, stock photos and illustrations save time and money by providing high-quality work without the expense of hiring a photographer or illustrator to create it from scratch. Millions of images are available and can immediately be downloaded and used for both editorial and commercial uses.
Stock images and photos can be used for social media, websites, editorial layouts, business presentations, and in countless other ways. But it helps to know how to find photos and use keywords and search filters effectively.
From free stock image sites to historical archives, there are many places to find free stock images. Stock image galleries like the ones at iStock provide a wealth of royalty-free images, searchable by keyword with affordable licensing.
Learn more about how to find and choose the best stock images.
What does royalty-free mean?
Royalty-free is a term that refers to how you can use the stock image you purchased. It does not mean the image itself is free or that there's no copyright. It simply means that when you purchase a license to a royalty-free image, you have permission to use it forever—without paying royalties to the creator for each use.
Because an artist owns the copyright to their work, they must provide permission for an image to be used royalty-free. For instance, at iStock, all of our stock images are provided royalty-free as part of our agreements with artists.
Royalty-free stock images give designers freedom and flexibility. Say you're using a stock image for an in-store poster. You can use the same image to tie in social media and print campaigns without paying extra costs, or royalties, to the artist.
Knowing whether an image is royalty-free can be confusing, particularly on free stock image sites. Be sure that you read the license closely to see what you are allowed to do with the image.
See more about how to use royalty-free images for commercial use.
Types of stock image licenses
When you are searching for stock images, you will run across several types of stock image licenses. It's important to understand the different license terms, so you know what you're getting and what you're allowed to do.
Royalty-Free
While you can use royalty-free images in perpetuity without paying extra fees for each use, there can be restrictions on how you can use them. One limit can govern the distribution of the image. If you're running a national newspaper ad using a stock image, for instance, the standard royalty-free license at iStock limits you to less than 500,000 copies. An extended license provides unlimited distribution in a print run.
Another potential restriction for royalty-free images is on items for resale. For example, this prevents you from using stock photos of cats to create a calendar and sell it to the public—unless you purchase a license that explicitly gives you the right to do so.
Royalty-free also doesn't grant you the right to use the image for commercial purposes automatically. You need to check to make sure the content isn't tagged for "editorial use only." In this instance, the images might not have the proper model or property releases or are photos of famous public figures or newsworthy events and can only be used for news, criticism, or education.
The benefit of using iStock for your stock image needs is that our licenses are very clear and provide limited protection. This will save you from the headache of launching an ad campaign and finding out later that you don't have the rights you thought you had.
Rights-Ready and Rights-Managed
Rights-ready (RR) and rights-managed (RM) licenses limit stock images to specific uses. This can refer to medium, length of time, print run, size, placement, and an assortment of other restrictions. Pricing for this kind of license varies, is usually more expensive than royalty-free, and is often used by national brands working on large-scale campaigns.
An RR/RM license enables you to negotiate distribution, exclusivity, and other terms based on your specific needs. Getty Images is probably the most familiar stock site that provides images with these two types of licenses.
Creative Commons
Creative Commons (CC) licenses were created by the nonprofit organization Creative Commons so individuals could share their work easily via internet distribution without confusion on how they can be used. Some photographers and artists are happy to share their work for free as long as they're credited. CC licenses allow for a range of uses and restrictions.
Attribution—CC BY: Free to use, modify, and distribute as long as the creator is given attribution.
Attribution-ShareAlike—CC BY-SA: Same as above, but if you adapt, modify, remix, or build upon the image, you have to license the work under the same license as the original image.
Attribution-NoDerivs—CC BY-ND: You can use the work with attribution, but you can't change it at all.
Attribution-NonCommercial—CC BY-NC: Use the work as you want in personal projects—with credit to the artist—but you can't use it for any commercial purposes.
Attribution-NonCommercial-ShareAlike—CC BY-NC-SA: Same use as above, but if you modify it at all, you must license the new work with the same license as the original.
Attribution-NonCommercial-NoDerivs—CC BY-NC-ND: You can use this work for your non-commercial project, but you can't modify it, and you must give attribution.
Public Domain Dedication—CC0: The CC0 designation means the creator has relinquished their copyright and given the work to the public domain (see below for more about public domain works).
Learn more about using images with CC licenses, along with potential pitfalls.
Public Domain
Images in the public domain no longer have a copyright and are not protected by intellectual property laws. This means these images are free to use. You can find public domain photographs and collections through museums, national archives like the Library of Congress, and various government sites.
Creators can also give their work to the public domain through the Creative Commons Zero license mentioned above.
While there are no restrictions to using public domain works, verifying that something is in the public domain can be tricky. Generally, works published more than 75 years ago are in the public domain because the copyright has expired.
See more about stock photos and image licensing.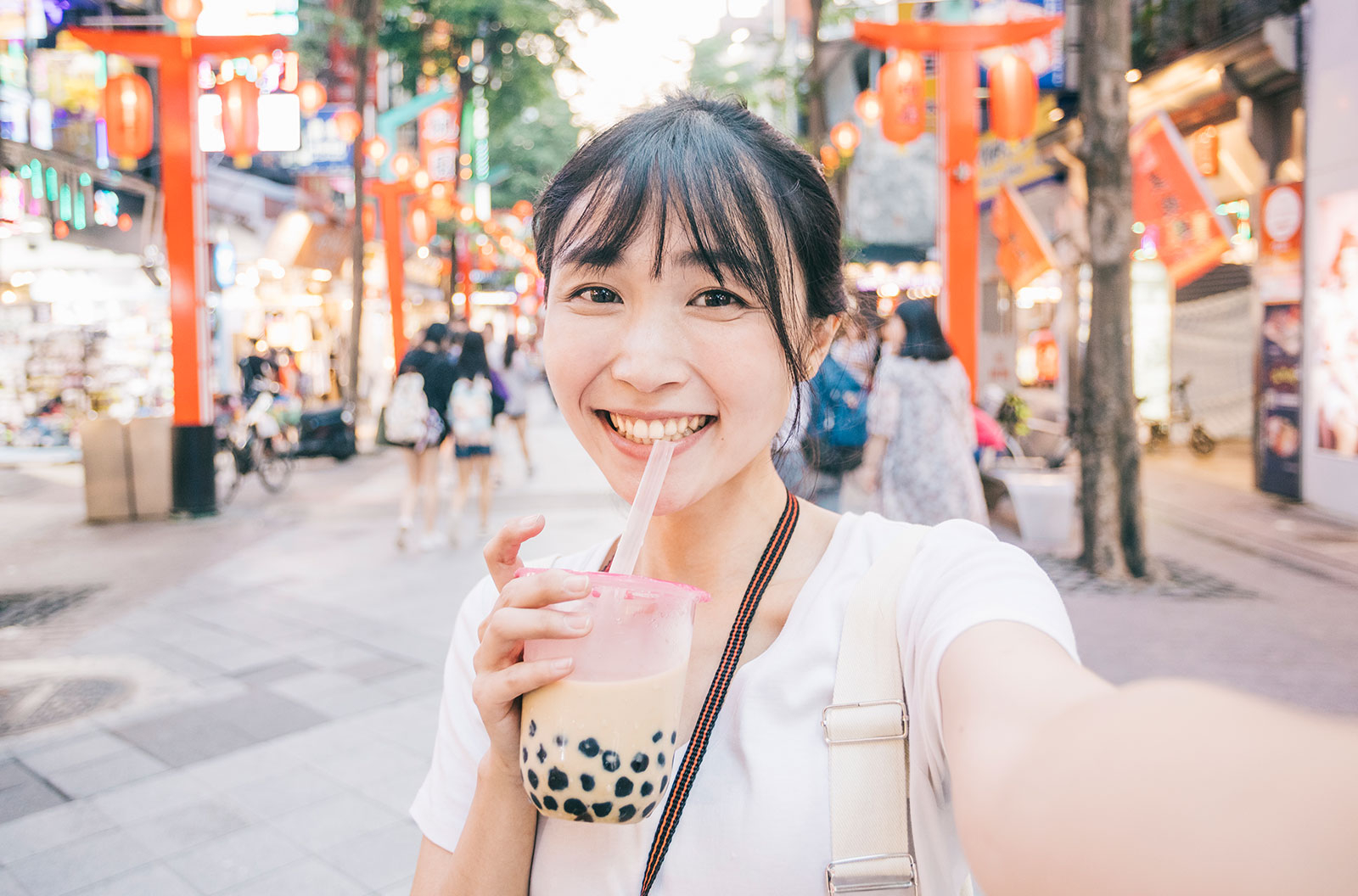 Where to find royalty-free images and stock photos
Millions of stock photos exist in the world, but sourcing can be a challenge because there are so many options.
Free stock image sites run into the hundreds and vary in both quality and quantity. It's important to assess a free stock site—particularly its license agreement—to make sure you can legally use the images for free. For instance, Freerange (a partner of iStock) has an informative About Us section that explains where they get their images from, who owns the copyright, and how they can provide the photos for free.
Some free sites provide photos uploaded by creators that are then curated into collections by site editors—but they aren't necessarily policed for legal issues. For instance, photos might include logos and brands, which are owned and copyrighted by someone other than the photographer. Using them could get you into trouble.
Another potential issue with free stock image sites is using photos of people for commercial purposes. Photographers are required to get model release forms in order to do so. Make sure you read the fine print at a free stock site to see how they manage model release forms. You might find that they rely on an honor system and trust photographers to have the appropriate releases. This lack of documentation could leave you vulnerable to a legal challenge.
Another source for free stock images is Creative Commons, which has a database you can search and filter according to the type of CC license—from public domain to limited non-commercial. But you can run into the same issues as with other free sites. Do the photos depict protected trademarks or brands? Did the models sign a release form giving permission to use their image?
One way to avoid these sorts of tricky legal issues is to use paid stock image sites like iStock. Images licensed for commercial use are vetted to ensure they have model release forms and don't contain trademarks or brands, giving you peace of mind when using stock photos for your work.
Paid stock sites also have robust search engines that allow you to drill down using filters to find exactly what you are looking for, including subject matter, type and number of people, ethnicity, orientation, resolution, type of license, etc.
Learn more about buying stock photos.
How to sell stock photos
Professional photographers can leverage their work by selling photos on paid stock photo sites. It's a great way to diversify income and create a passive revenue stream.
Stock sites vary in how they accept and compensate photographers. Some allow anyone to join their community and offer images for sale. Others, like iStock and Getty Images, require photographers to apply and submit samples of their work. Be sure that no matter what site you use to sell your work that you retain your copyright.
Most sites will allow you to sell your images elsewhere unless you agree to an exclusive contract. In that case, you can only sell to the one site, but you should expect to get a higher percentage in royalty fees.
Generally, once you've chosen a stock site to work with, you photograph, edit, and upload your original work, tag it with the proper keywords if necessary, provide the proper releases, and when someone purchases your photo, you receive a royalty. The more photos you sell, the more money you can make.
When it comes to figuring out which types of photos are in demand, many sites will provide you with guidelines on what their users are looking for. At iStock, we provide artists with creative briefs and direction on what our most popular content is.
The best stock photos are high resolution, technically precise with good lighting and composition, and illustrate a universal concept like togetherness, love, family, etc.
It's also a good idea to keep an eye on trends in advertising and photography. Are certain colors trending? What about subjects? On iStock, we have a list of trending searches on our stock photo search page that can offer insight into what people are looking for.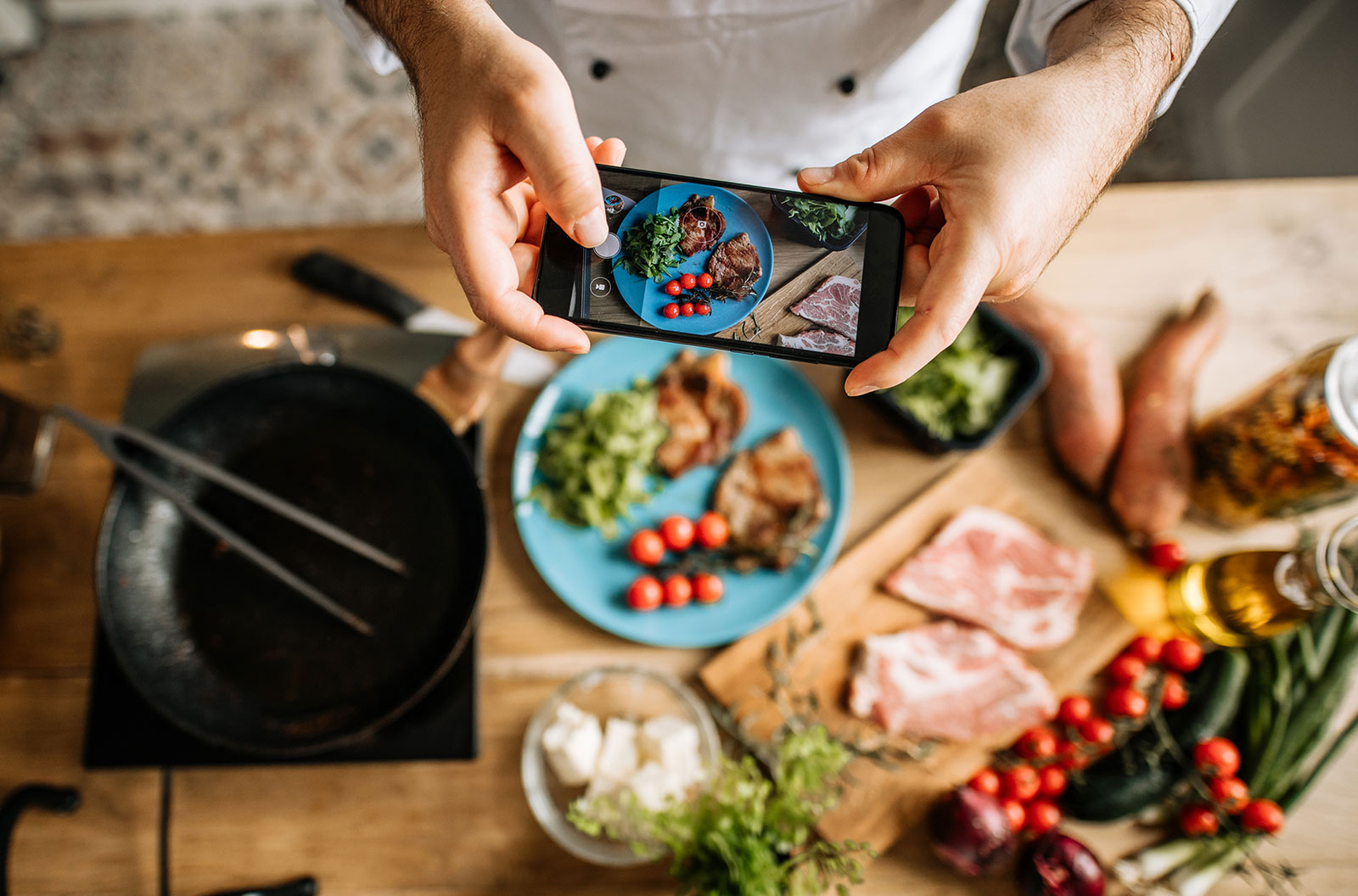 How to know if an image is copyrighted
Copyright law protects intellectual property. Before copyright law was amended in 1976, creators had to apply for copyright protection. Copyright protection is now assigned automatically. That means that any image you find on Google image search is most likely copyright protected and isn't OK to use without the right permissions (think: no "right-clicking").
One way creators protect their copyrighted images is to watermark them. If you see an image with a watermark, you can be sure it's copyrighted. Another way to check is to see if the creator embedded their information in the image's metadata.
If you think an image is in the public domain, you can do a reverse Google image search to double-check and make sure it doesn't have image rights embedded in its metadata.
The US Copyright Office also has a way to check if works are copyrighted, but it's not foolproof since works are automatically given copyright protection without having to register with the government.
Remember, although copyright laws may be similar globally, there are still some requirements that may not be covered by various laws. Therefore, what might be legal in one country could be a violation in another.
Royalty-free vs copyright-free?
Copyright-free is not a legal term and is often used out of confusion. Some people might use it instead of royalty-free, but that is incorrect. Royalty-free stock images still have a copyright owned by someone, which could be the creator or the site licensing the image. The image is being licensed without requiring you to pay royalties for ongoing use.
Copyright-free is sometimes used for Creative Commons licenses. But this is also incorrect. CC licenses govern how the copyright holder is allowing their work to be used by others. The work is still copyrighted.
Public domain images are also confused for copyright-free. The copyright for work in the public domain has expired, which means that it's free to use, but it's not technically copyright-free.
Learn more common misconceptions about "copyright-free" images.
File formats: What to know about image file types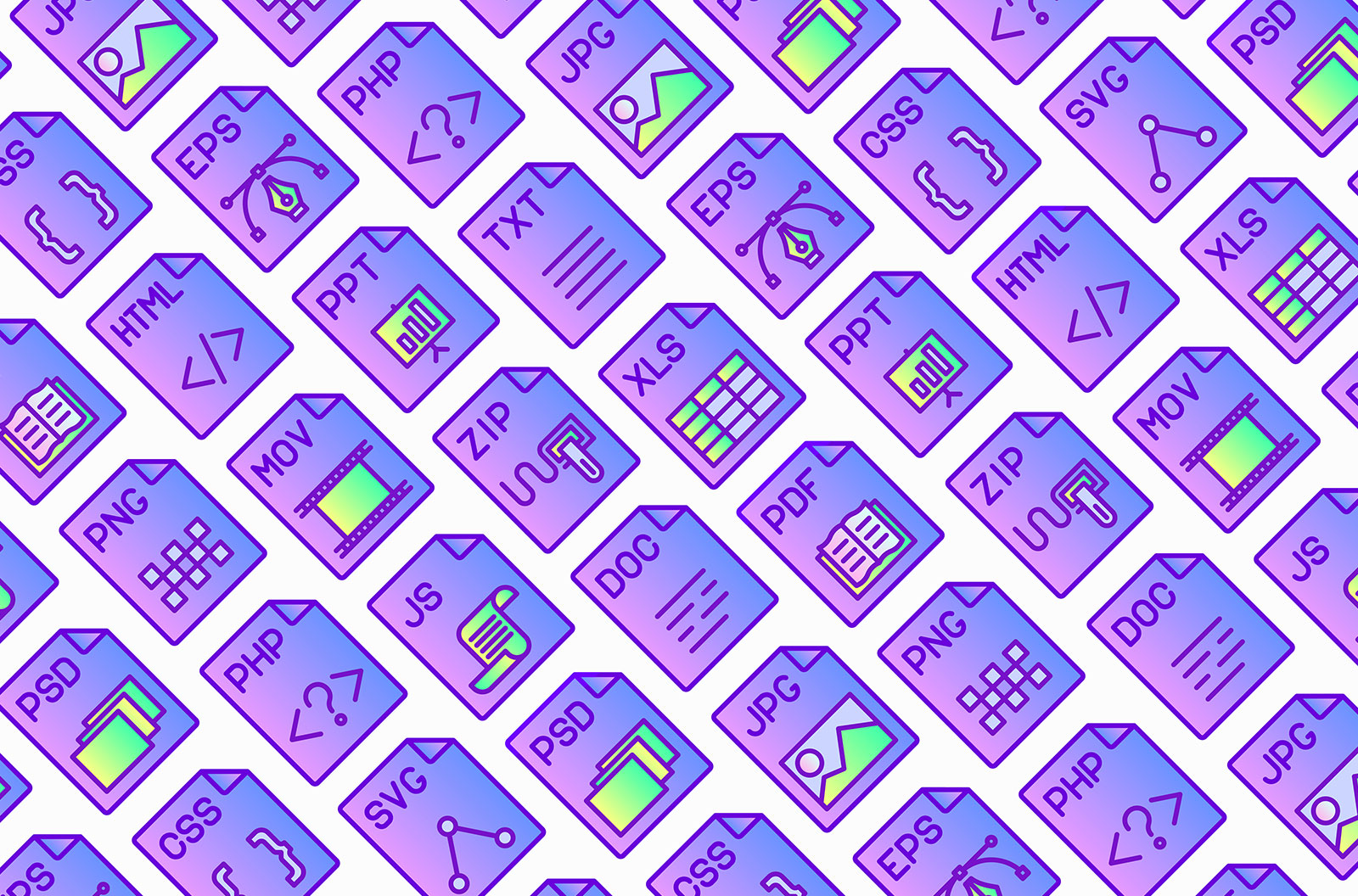 Image file formats
Photographs, illustrations, and videos come in standardized file formats that work across platforms. Understanding the capabilities of these file formats — and the difference between raster and vector images—is important before you start downloading and using stock images and footage.
JPEG/JPG
The most common file type for images. JPEG stands for Joint Photographic Experts Group and is a raster image saved with lossy compression. Raster means that the image's structure is a dot matrix grid that can be scaled down—but not up—without loss of resolution. Lossy compression allows images—particularly photos—to use less storage space by removing redundant tones from the image. If a JPEG image is saved with too low a quality, it can become pixelated.
When using a JPEG file, choosing the correct size and resolution is important so you don't end up with a pixelated image. If an image will be reproduced in print, you'll need to download a larger size, so it has the highest resolution possible. If the purpose is digital only, you can use a smaller image without losing any quality—but you won't be able to scale the image up in size without impacting resolution.
Other types of raster files you might come across include PNG (Portable Network Graphics), TIFF (Tagged Image File Format), BMP (BitMap), and GIF (Graphics Interchange Format). While these file formats each have their uses, JPEG is the most common and can be converted into any of these, if needed.
EPS
EPS stands for Encapsulated Postscript and is a type of vector file. Unlike a raster, which uses a dot matrix grid to recreate an image digitally with pixels, vector files reproduce the image as shapes. This means illustrations and icons that are drawn can be saved as vector files—like EPS—and can scale up or down in size without losing quality or becoming pixelated. You can use the same file for a tiny icon or a giant billboard.
Vector files are best for logos, illustrations, and icons. When downloading an illustration from iStock, you can choose whether you want an EPS or a JPEG version. Make sure you download the correct version for your purposes. If you're going to use it in a standard size on social media, you can choose JPEG, which will basically flatten the illustration into a rasterized format.  If you're planning to manipulate the illustration and use it in various materials, you'll want the flexibility of an EPS file.
Other vector files you might come across include AI, which are images created in Adobe Illustrator, and SVG or Scalable Vector Graphics, but EPS is the most common and standardized across platforms and graphic design programs. Learn more about EPS files and how to use them.
MP4
MP4 is a standard video format that stands for MPEG-4. This type of file compresses audio and video separately and can even include subtitle information. It's supported across platforms, including mobile devices, and is the preferred file format at YouTube. The MP4 format has a high compression rate, making the video files much smaller and easier to upload, download, and stream.
MP4 files are best for smaller projects that don't require extensive editing and post-production effects. MP4s don't scale up easily, so it's important to get the right size file and format for your purpose.
MOV
MOV is another common video file format that was developed by Apple and is commonly used when video editing on a Mac. MOV files are generally higher quality but also require a larger file size. Not all platforms support MOV, but MOV files can easily be converted to MP4 once you've finished editing your project.
MOV files are best for larger projects that require editing video clips and combining them with elements like text, music, or graphics
There have been numerous video file formats over the years that you might run across. The most common are AVI (Audio Video Interleave), WMV (Windows Media Viewer), and FLV (Flash Video). While these have their benefits, the most flexible and widely used video formats are MP4 and MOV.
How to change image formats
Converting file formats from one to another is a relatively simple process that a variety of software programs can handle. For instance, both Microsoft and Mac have programs included with their operating systems to convert files if you don't have access to programs like Adobe Photoshop or Illustrator. There are also free online converter tools that can translate files, but we think it's safer to use standard software programs so you can control the outcome.
Here are some quick examples of how to convert common file types:
Convert PNG to JPG
Apple has a program called Preview that allows you to easily open and manipulate images.
To convert a PNG to JPG using Preview:
Open file in Preview.
Select File and Duplicate image.
Select Save. In the dialog box, look for Format.
Choose JPEG from the pull-down list. You have an option to adjust quality from best to least. This'll impact the size of the file and the resolution of the image.
Convert EPS to PNG
EPS and other types of vector files aren't as easy to convert as raster files like JPEG and PNG. Most likely, you'll need a specialized software program like Illustrator, Photoshop, or OpenOffice for this task.
To convert EPS to PNG or JPG using Photoshop:
Open file.
Select Export in File menu and choose Export As.
Choose Format and a window will pop up. Select Format and choose PNG or JPG from the pull-down list.
Then select the File Settings, which can include quality and image size, depending on which format you chose.
Once you have selected the correct File Settings, click Export.
In the Save window, name your file and select save.
Learn more about image file formats and how to convert them.
Was this article helpful?