iStock and Mind Share Partners' Guidelines for Visualizing Workplace Mental Health
The past 18 months have proven that mental health is no longer a workplace benefits discussion or self-care issue—it increasingly plays a central role in employee experience and wellbeing, in employers' business and people strategies, and in the growing global dialogue around mental health and the culture of work.
Businesses and media alike have the opportunity to create meaningful change in this broader movement through their communication choices; specifically, through the language and visuals they choose to use when depicting mental health, workplace environments, and employee interactions. Unfortunately, marketers and employers often rely upon stereotypes and cliches, such as the stressed-out individual grasping their head in their hands out of sheer frustration, or the person sitting with a box of tissues in their lap to represent depression. Ultimately, our design choices have very real effects on how people understand mental health, seek support, or support others.
These guidelines, created in partnership between Mind Share Partners and iStock, are intentionally designed to inform, educate, and ideally ensure that small- and mid-sized businesses (SMBs), as well as media, feel equipped to make thoughtful visual choices when communicating with employees and depicting workplace environments and workplace situations. While these guidelines are suggestions, each is rooted in research, data, and insights from leading mental health experts and leading visual experts. Together, they seek to provide actionable guidance that employers can use to demonstrate that mental health is a priority issue for them and ensure that they more accurately, inclusively, and productively illustrate mental health, their people, and the future of work.
Seek Authenticity: Capture the Breadth of Mental Health Experiences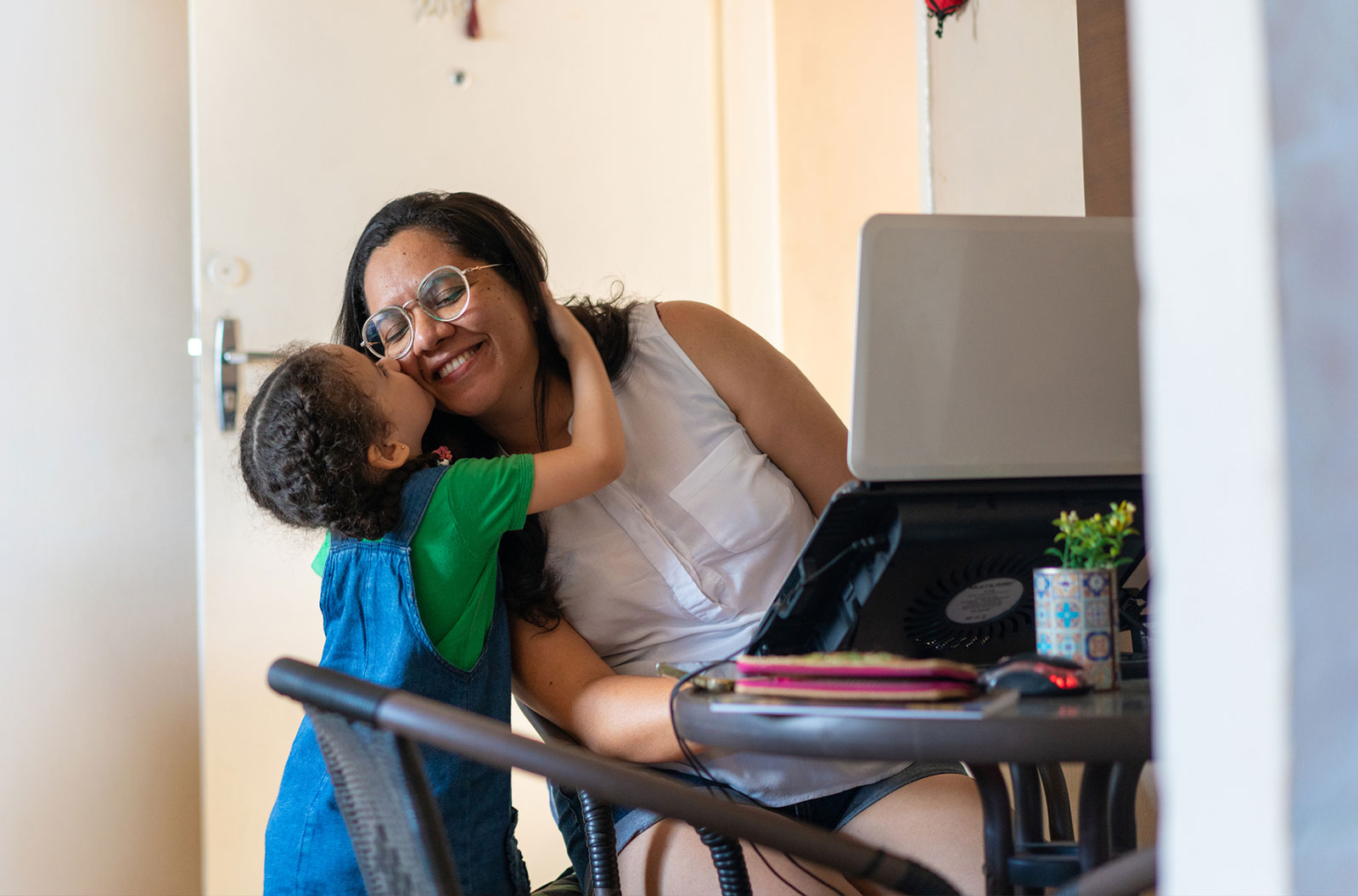 Challenges with mental health are a near-universal experience. In Mind Share Partners' 2021 Mental Health at Work Report in partnership with Qualtrics and ServiceNow, 76% of full-time U.S. employees reported experiencing at least one mental health symptom in the past year—up from 59% in their 2019 Report. At the same time, mental health is an incredibly diverse spectrum of experiences—not just diagnosed conditions or general stress and wellness alone. According to Mind Share Partners, the most common symptoms in 2021 were burnout (56%), depression (46%), and anxiety (40%). In a similar vein, iStock saw a 204% rise in image searches for "burnout" globally in 2021, indicating the value of specificity and wider representation.
Mental health at work can look like so many different things, beyond the ever common depiction of "head clutching" we often see, which many actually report as inaccurate or stigmatizing. Visuals of brains have also been similarly prolific, but research shows that only framing mental health challenges as a "brain disease" can actually increase stigma, with individuals facing mental health challenges being more likely to be seen as "different," "dangerous," and "untreatable" as a result. Thus, the way we portray mental health shapes how people understand their own mental health, whether people seek support, what kinds of support (medication, treatment, social support, and more), and how people view others navigating mental health challenges.
Culturally, the time is right for approaching mental health with more honesty: iStock's Visual GPS research found that mental health and happiness is the single biggest priority shift for Americans as a result of the pandemic, but only 1 in 4 actually learned how to manage their stress. So, when you're exploring visual content, use visuals that showcase authentic experiences and scenarios—both the positive and challenging—from everyday life at work. iStock's Visual GPS research confirms that authenticity in visual communications resonates with consumers. Increasingly, people are looking for authenticity, not dramatized versions of reality.
Consider also reflecting on the specific topic or issue within workplace mental health. Are you talking about the burden of overwork or burnout amidst remote work? The impact of "hustle culture" on stigma and shame? Or advocating for self-care and work-life balance for your mental health at work? Again, mental health at work encompasses so many experiences, and these questions can help narrow the focus of your visuals in more specific and nuanced ways.
Be Inclusive: Make Diversity, Equity, and Inclusion (DEI) Center Points in the Conversation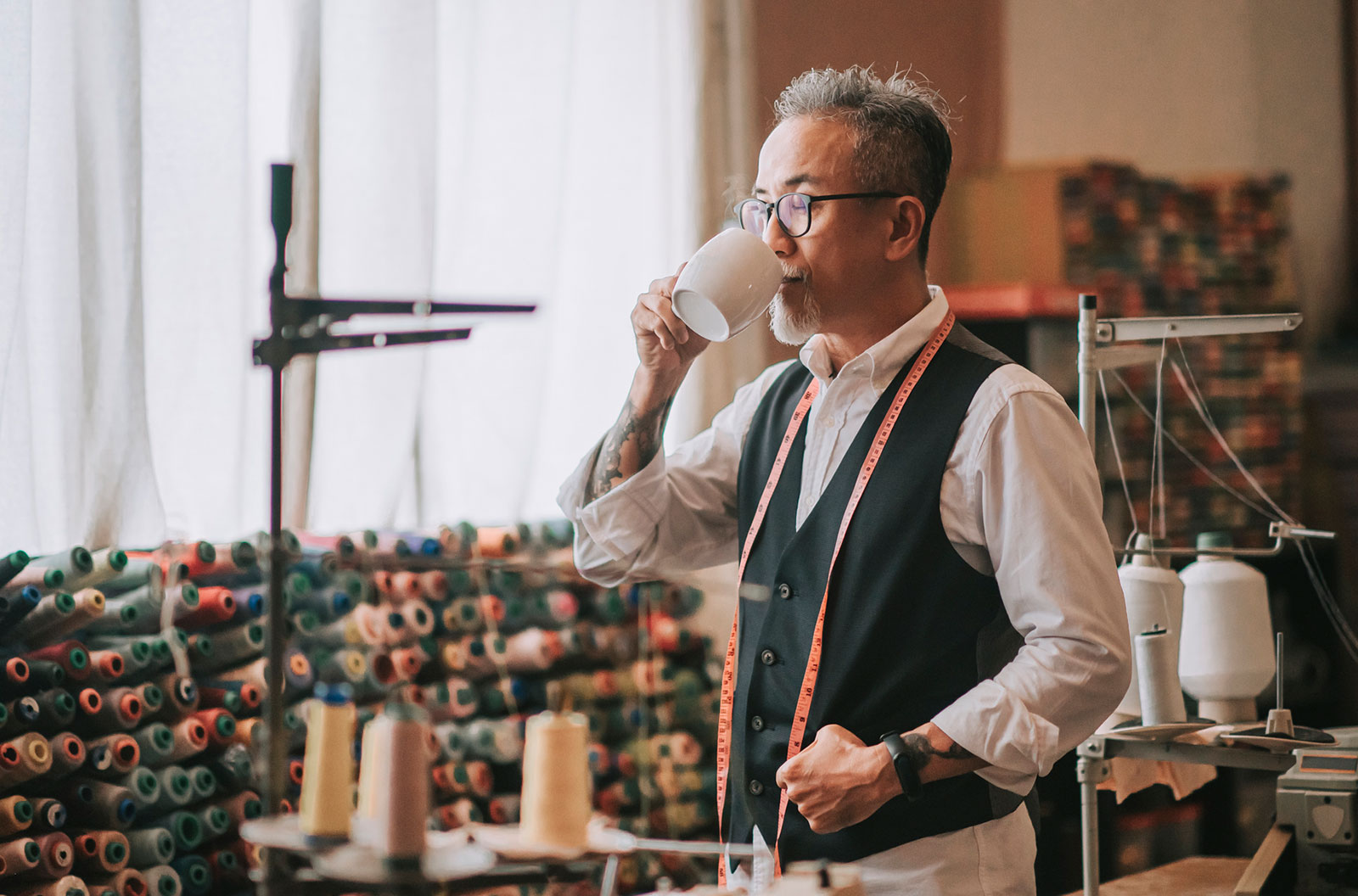 People are as diverse as the spectrum of mental health experiences themselves. Amidst the surge of racial injustice throughout the pandemic and the increasingly central role that DEI plays at work, intersectional conversations around mental health are similarly timely as well. In fact, Mind Share Partners' 2021 Report found that 54% of workers agreed that mental health is a DEI issue—up from 41% in 2019. In addition, within the last year, iStock saw a 234% increase in searches for "workplace diversity," indicating a clear appetite for widespread representation.
However, there continues to be a lack of representation in mental health visuals. Young, able-bodied white women are often prominent fixtures in mental health visuals. Over-reliance on one demographic excludes the diversity of identities and communities that experience mental health challenges. While not always intentional, this erases the very real experiences both unique to and shared across identities and community groups. It can not only reinforce existing stigmas within underrepresented communities but also discourage them from seeking appropriate support. Limiting the conversation to women and specific communities further risks reinforcing negative stereotypes and unhealthy societal norms around gender and other identity markers (e.g., women as overly emotional).
Age is another factor to keep in mind. While younger generations are often more vocal about mental health challenges—in Mind Share Partners' study, they were more likely to report mental health symptoms, cite work as a detriment to their mental health, and leave a previous role due, at least in part, to mental health reasons—these conversations are relevant across all ages and seniority levels, too. In fact, Mind Share Partners' report found that executive (82%) and C-level (78%) respondents were more likely to report at least one mental health symptom, compared to managers (71%) and individual contributors (71%). Regardless of seniority, iStock's Visual GPS research found that all generations are equally as concerned about the pandemic's impact on mental health—although a greater percentage of people over 55 feel the added concern about new COVID-19 variants, when compared with their younger counterparts.
When selecting visuals, be intentional around inclusivity across gender identity, race, ethnicity, age, ability, and more. To go further, actively combat negative and inaccurate stereotypes around mental health and specific populations (e.g., men not talking about mental health). Mental health is not monolithic, cuts across groups and seniority levels, and shows up differently for different people even within communities. Consistency in diverse and accurate representation of people can help foster a sense of belonging in the workplace for all groups and firmly center historically underrepresented voices within the broader conversation of workplace mental health.
Show Solutions: Share Proactive Strategies to Support Workplace Mental Health
Mental health is more than self-care. In fact, Mind Share Partners' 2021 Report found that emotionally draining work and challenges with work-life balance were the two top factors that were negatively impacting employee mental health. In the wake of remote working and return to office conversations, the lines between work life and home life continue to blur.
According to research from iStock, only 16% of Americans said they're looking forward to returning to work and 60% want more support in balancing responsibilities at work and home. Further, iStock's Visual GPS survey revealed 91% of Americans think it's as important to take care of themselves emotionally, as well as physically, with 89% of people wanting to see more tangible support for those with mental health issues.
Our work environment and the culture of work itself drives our mental health. To address this, employers should prioritize visuals that promote healthy, sustainable ways of working and proactive strategies to support the mental health of individuals and teams. This means going beyond typical ways of depicting mental health support that often focus on the individual, like yoga and meditation. While both are valid tools and supported by research, we need to expand our visual literacy beyond self-care to convey healthy and sustainable ways of working and support. Choose visuals that depict employees taking breaks or making time for themselves in the office, or outside of it; show workers efficiently doing their jobs while tending to their familial obligations; or show a senior leader sharing a thoughtful message of support to employees in an all-hands meeting.
Reflect Reality: Portray Today's Concerns, Including Work-Life Balance, Flexibility, and Remote Work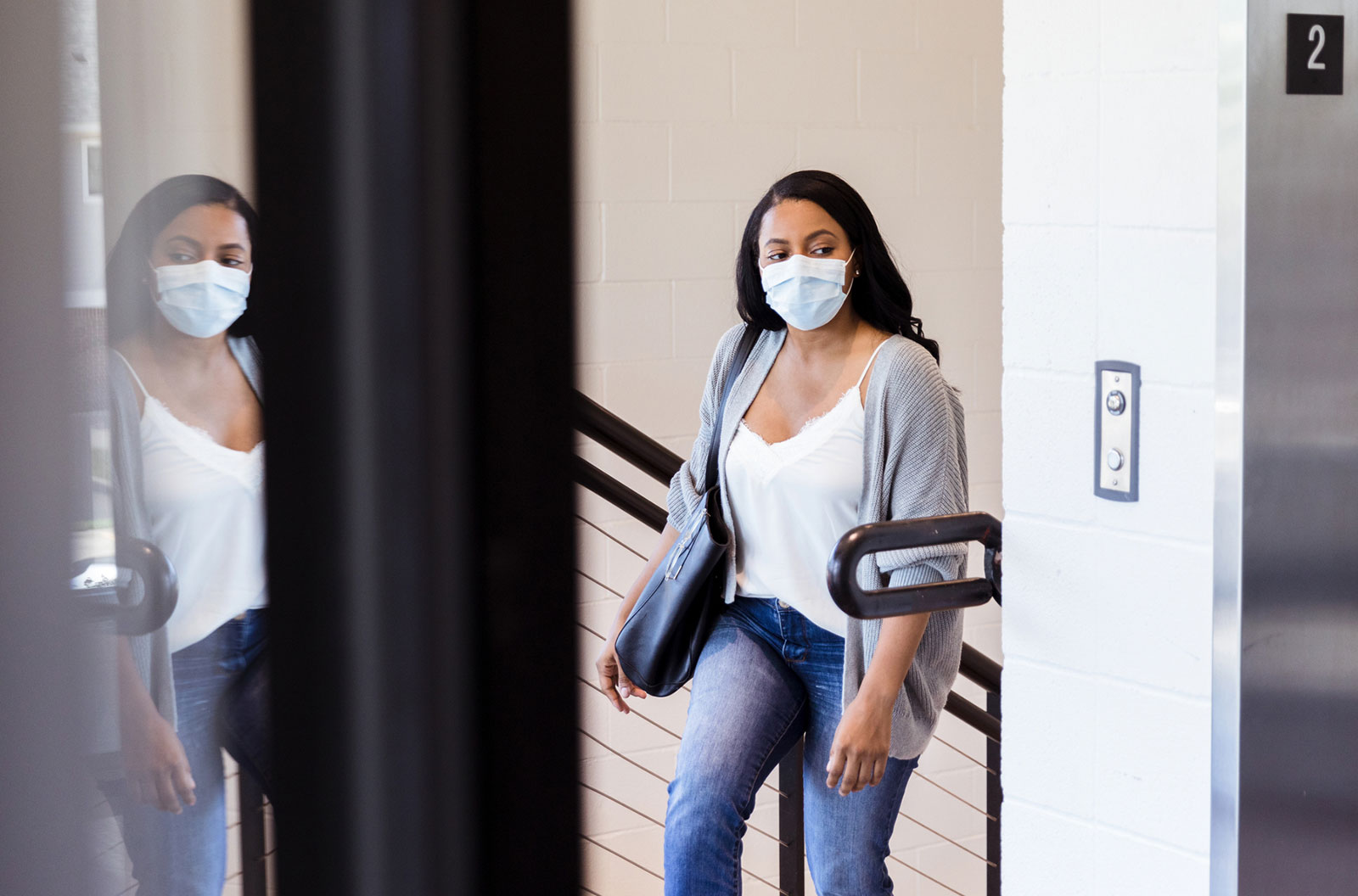 As some of the workforce prepares for office re-openings, remember that not everyone's work-life looks the same. Flexible work is on the rise, with a greater number of Americans opting for hybrid or permanently remote situations. iStock research reveals that searches for "virtual meetings" have risen 70% in the last year alone. But with return-to-office conversations happening everywhere, a growing number of reports show that nearly 40% of U.S. workers would plan on leaving their roles if full-time, in-person work was reinstated. In fact, Mind Share Partners found that the most common ways that employers' return to office plans were negatively impacting employees' mental health were the policies themselves and the impact they would have on work-life balance and flexibility. Workplaces that prioritize visuals around 'traditional workforces' risk alienating remote and hybrid workers or causing feelings of detachment.
When curating visuals, intentionally incorporate a range of work settings, from workers collaborating in-person, to talking on the phone and via web platforms, to working from home. Perhaps even more important is to portray these settings and experiences authentically—from the messy bed behind us in our Zoom videos to a front-line nurse taking a moment to collect herself amidst the churn of COVID-19 patients.
Finally, with the COVID-19 virus still being a risk, businesses should consider a multi-layered approach to appeal to a broad audience. iStock research shows that 31% of people still want to see people wearing masks and 36% want to see people practice social distancing in visual communications, with search data revealing a 669% increase for the term "vaccine" in the U.S. To ease concerns, focus on showing visuals that portray safe workplaces through social distancing or mask wearing, but also think about the future and use visuals and messaging which look beyond the pandemic.
Get Human: Showcase Connection and Community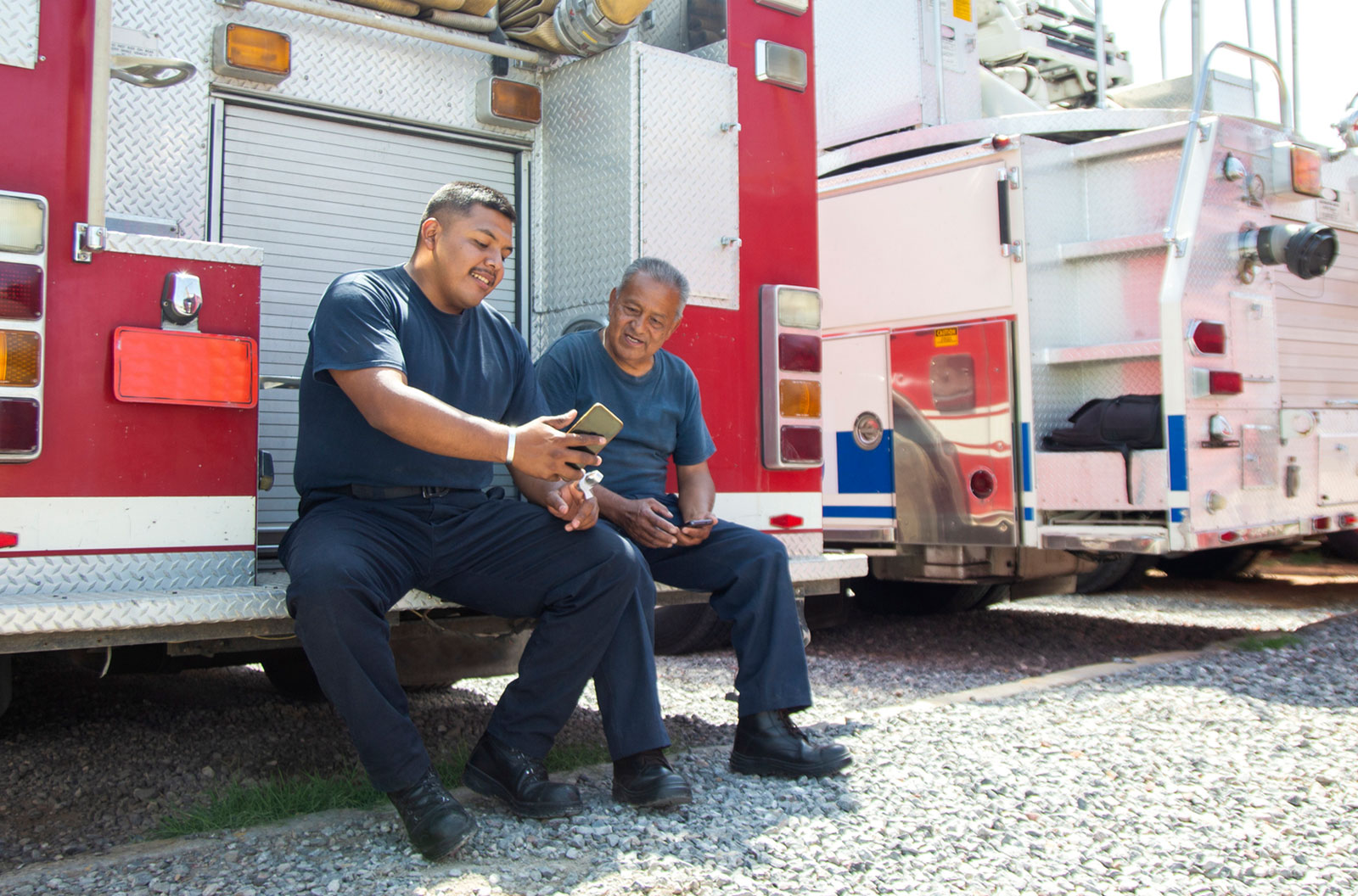 Employees are feeling the strain of social distancing, remote work, and COVID-19 exposure anxiety for front-line workers. In Mind Share Partners' 2021 Report, communication practices and employees' sense of connection to or support from their colleagues or manager were among the top workplace factors that worsened amidst the transition to remote work. According to iStock research, 48% of Americans feel that communicating online has made some of their relationships worse. At the same time, Americans say that living through the pandemic made them appreciate their personal relationships even more, amplifying the value of meaningful human connection.
For many who were employed during the pandemic, work was a constant, while the leisure activities that help people unwind were put on hold due to public health restrictions—so it's no wonder that iStock's research found that Americans are most looking forward to travel, dining, and reconnecting with loved ones over returning to work. Thankfully, conversations about mental health at work are increasingly normal. According to Mind Share Partners, 65% of respondents reported having discussed their mental health with someone at work in the past year. However, only 49% described their conversations as positive.
To ensure these conversations keep happening, organizations must create a culture of safety and connection, further normalizing these discussions by depicting healthy interactions and supportive communities. Choose visuals that model settings and situations that capture genuine connection and support—whether that be showcasing communal work settings, coworkers attending an in-person or hybrid meeting, teams collaborating over lunch, or an intimate moment of support between colleagues over a video meeting.
Recognize and Respect: Depict Suicide and Other Serious Mental Health Topics with Care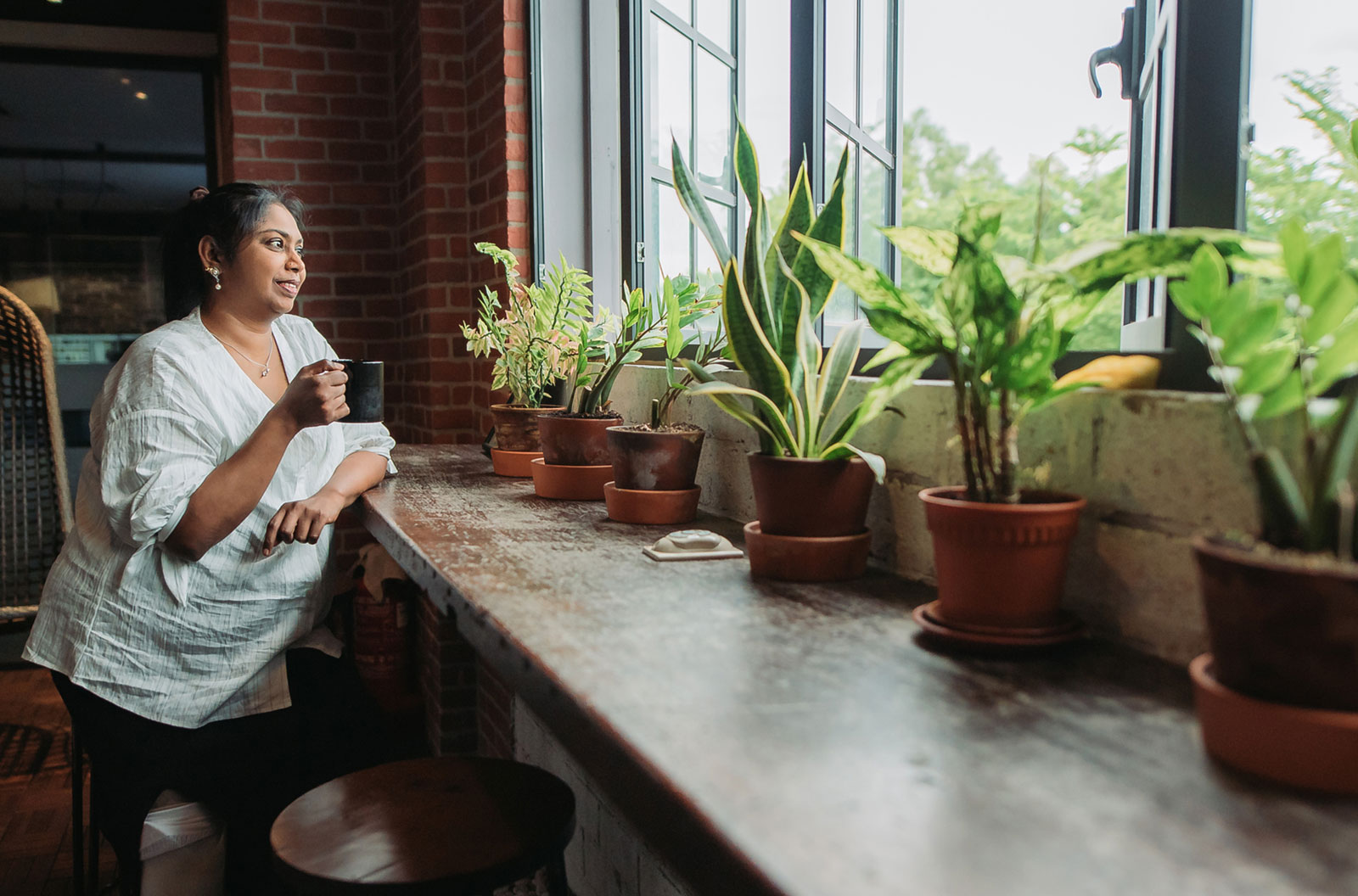 While it's important to recognize and represent the full breadth of mental health experiences, including more serious ones, we must also do this intentionally. In fact, irresponsible reporting of suicide can actually cause the spread of suicide cases, traumatic visuals can re-traumatize individuals and trigger further challenges, and negative portrayals of mental health can reduce empathy and people's willingness to support individuals facing these challenges.
Industry leaders in suicide prevention have outlined clear guidelines in responsible reporting around suicide and other serious topics, such as:
Convey that suicide is complex and often caused by a range of factors, rather than by a single event
Show that help is available
Use nonjudgmental language
Additionally, when selecting visuals, avoid depicting:
Methods of suicide (i.e., firearms, rope, medication)
Traumatic visuals (e.g., any portrayals of violence)
Other negative or explicit portrayals of mental health (e.g., associating mental health and violence, instability, angry outbursts, etc.).
Finally, when touching on more serious topics, always include resources for navigating crises and ongoing support for mental health.
Conclusion
The principles of this guide are a starting place to re-picture how mental health is represented in all kinds of media. We're at an inflection point when it comes to mental health and the broader culture of work across communities, which means there's a tangible opportunity to not only show what mental health looks like, feels like, and is, but also what it could be.
Based on these guidelines, iStock curated a selection of visuals that promote a healthy, sustainable workplace culture and well-being. Browse our curation here.
To download the guidelines, visit https://www.mindsharepartners.org/visual-guidelines-for-mental-health-at-work
Was this article helpful?