How to Add Background Music and Sounds to Videos
Adding background music to a video is an effective way to make your video more attractive and boost engagement with your audience. It's hard to find a YouTube video that doesn't leverage audio to enhance the experience.
And as you may expect, there are many tactics and tools you can use to add and process your background audios.
In this article, we will go over the process of adding background music to videos.
Benefits of Adding Background Music to Your Video
Here are the most relevant benefits of using background music.
Improves cohesiveness
Background music helps add a unique effect to your videos. You can use it to convey unique emotions you couldn't with scenes alone.
Music literally creates an emotional connection with your target audience. It contributes to making the video more engaging and interesting. It adds a certain mood and dynamism to your footage, making your content an authentic audiovisual experience.
Enhances transitions
The perfect background music contributes to your video's overall construction, design, and flow. Background music allows your video to smoothly transition from one idea or scene to the next. This transition is most effective with slide videos or when you have a jump cut.
You can also use background music to bridge silent moments or dead times (moments when you have a visual but no sound).
Further, background audio can help you cut out all the surrounding noise, such as street noise, and keep the video content more accurate. It can also help fill in any annoying gaps in your video. This way, you can keep the excitement flowing and your viewers hooked.
Provides an extra layer of engagement
Background music allows you to engage your audience and capture their attention. The truth is, the average internet user's attention span has grown shorter and shorter due to the volume of content on the web, but everyone strongly resonates with music, and people are responsive to musical cues.
So, background music brings this layer of interest that allows you to keep viewers focused and engaged. It helps you create the perfect blend to drive engagement and create viewer attachment to your videos.
Here is the simplest way to add background music to your video.
TikTok
Open TikTok and log into your account
Click on the + icon to upload a video or create a new one
Find and upload your video.
Select the "Sound" icon at the bottom of the screen.
Select "More" to expand the window.
Search your music or go with the recommendations.
Preview-play your music to choose.
Drag to adjust the sound for your video.
Validate to add the music.
As you validate the music, you should see the check sign added to the "Sound" icon you chose in the first place.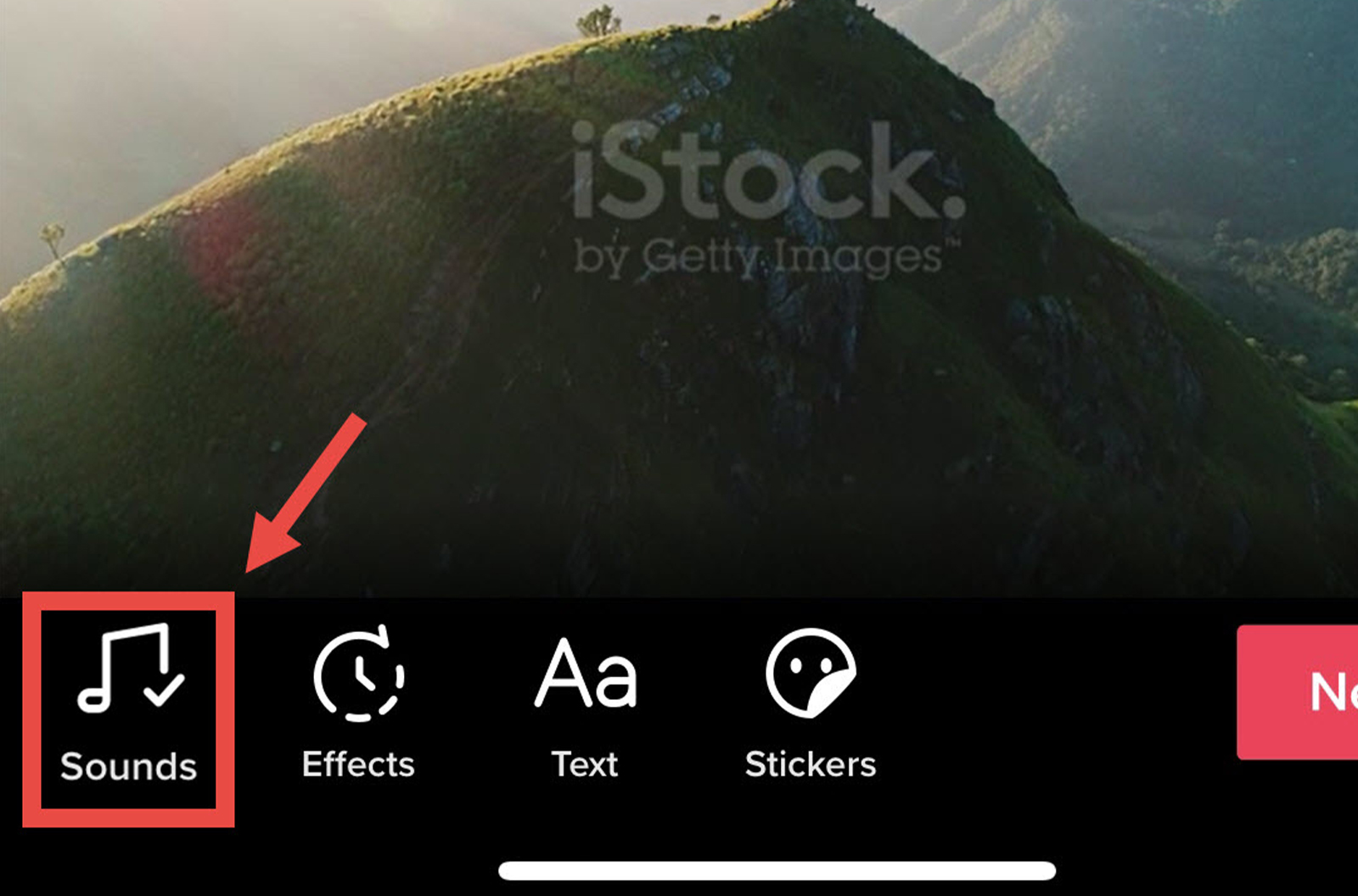 Youtube
Go to YouTube Studio.
Choose "Content" on the left-hand menu.
Locate the video you'd like to edit (if the video is not uploaded, you should upload it first).
Choose "Editor" on the left-hand menu.
In the drop-down menu, select Add a track.
Use the "Search or filter library" box to find a specific soundtrack.
Select "Play" to preview tracks. When you find the song you like, select "ADD" (the song will appear in the editor)
Drag the highlighted edges to adjust the track to your video.

When you're finished, select "SAVE".

Instagram
Tap on the Your Story/Camera icon at the top of the page.
Go to the Reels tab.
Upload your reel or record it.
Tap on the Audio icon (you will be directed to the Music screen).

Choose a song from the available options.
Use the "Search music" field to find the music you want.
Select the "Play" icon to preview the music.
Drag the edges to adjust the music to your liking.
Validate by selecting "Done."
How to Choose the Right Background Music
While choosing the right background music for your video helps make it more interesting and keeps your viewers engaged, selecting the wrong one can ruin it. Here are a few tips to help you choose the right background music for your videos.
Know your goal with the music
This is about the type of video you want to create and the type of music that goes with it. Ask yourself: What type of video am I creating, and what role do I want the music to play?
Your goal is to select music that corroborates the points you are making while keeping viewers engaged and entertained.
Here are some tips.
For explainer, how-to, or demonstration videos: Keep your music smooth and steady to maintain your audience's attention.
For customer testimonial videos, brand videos, or videos with live-action and storytelling: Use upbeat music to explain and drive the plot forward.
For product videos, software walkthroughs, overview videos, videos for an announcement or promotion: Use dramatic music to evoke emotion.
Make sure the background music is aligned with your audience
When choosing a background soundtrack, you should consider the audience and the effect/emotion you want to convey.
In a nutshell, here's what you need to know:
Pop, hip-hop, or disco music is associated with an enthusiastic and cheerful atmosphere.
Classical music gives a sense of nostalgia or fairytale.
Soul music conveys a smooth and sensual effect.
Rock music brings an energizing effect.
So to choose right, you must first figure out your audience.
Who are you creating your video for?
What emotion or feeling do you want to evoke through your video?
What do you want your viewers to feel?
Make sure it is royalty-free
You want to engage your audience with killer background music, but you also want to do it by the book so you don't run into copyright issues. The good news is there are plentiful royalty-free music libraries. However, for the best sound quality and a unique sound identity, you may want to consider a paid music library.
A major benefit of using audio from iStock powered by Epidemic sound is that you can pre-clear audio content for social platforms (such as YouTube). This helps the social platform know that you've licensed the rights to use the content, without having to incur any extra charges from Epidemic Sound.
Choose the perfect audio format
For your video to have a coherent and optimal background sound, avoid .mp3 and .mp4 audio file formats (regardless of the volume level you're shooting for). Instead, use lossless formats. Note that some sites like iStock Music will already have the music in the right format, so you won't have to worry about that.
Lossless audio file formats are always better for perfect sound quality. Some lossless audio file formats include FLAC, WAV, or AIFF. These file formats are considered high resolution, and generally better than CD quality.
Where to Find Background Music
iStock Music is the ideal platform to find quality background music for your videos. It gives you access to over 35,000 royalty-free music, stock audio, sound clips, and sound effects that you need for your videos. Just head over to the iStock website.
First, you will need to sign in to your account or join. After you are logged in, select "Music" from the menu.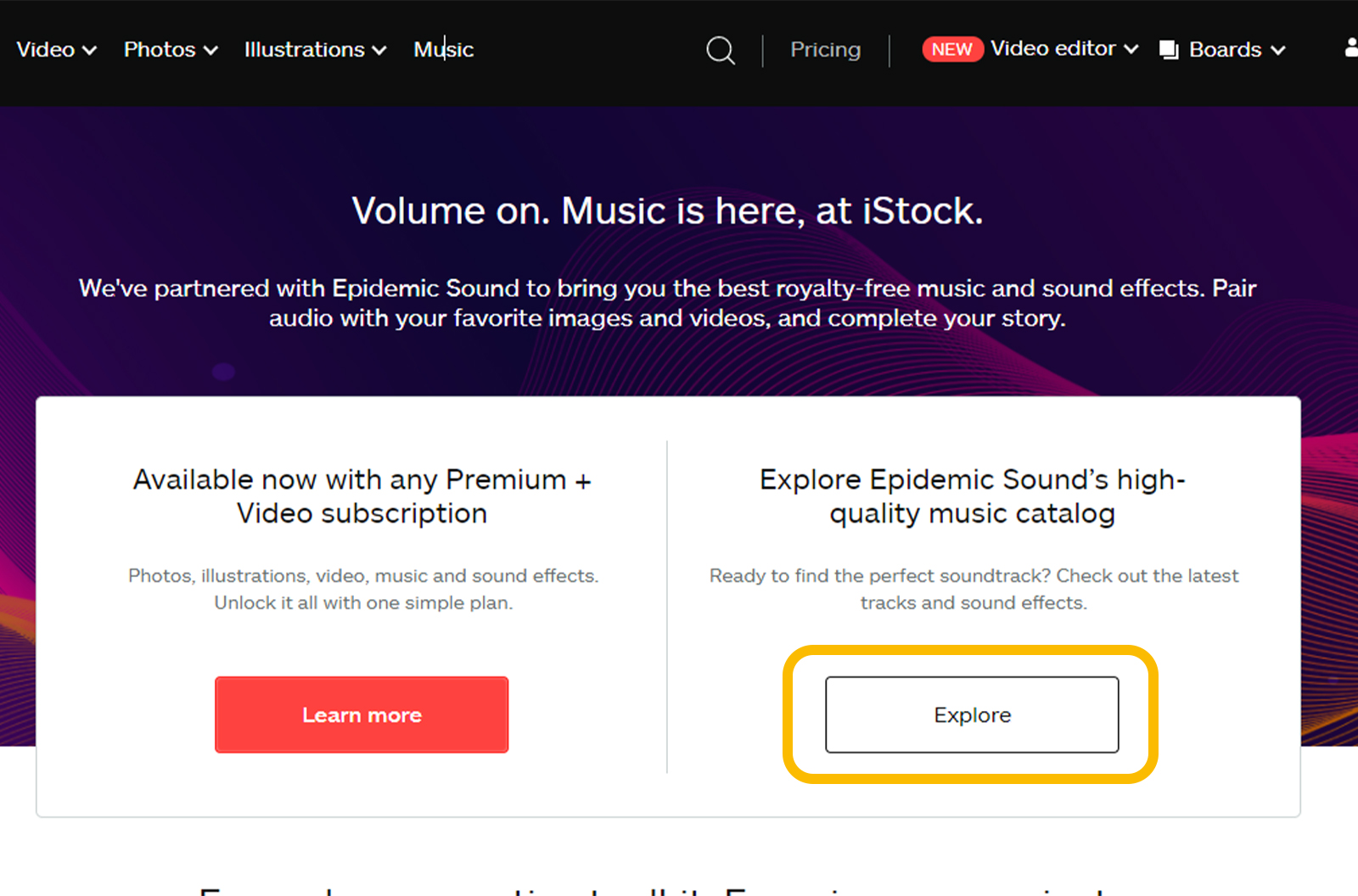 Next, choose "Explore" to be taken to Epidemic Sound — the official site for iStock Music. There, you will be presented with a choice of different music categories.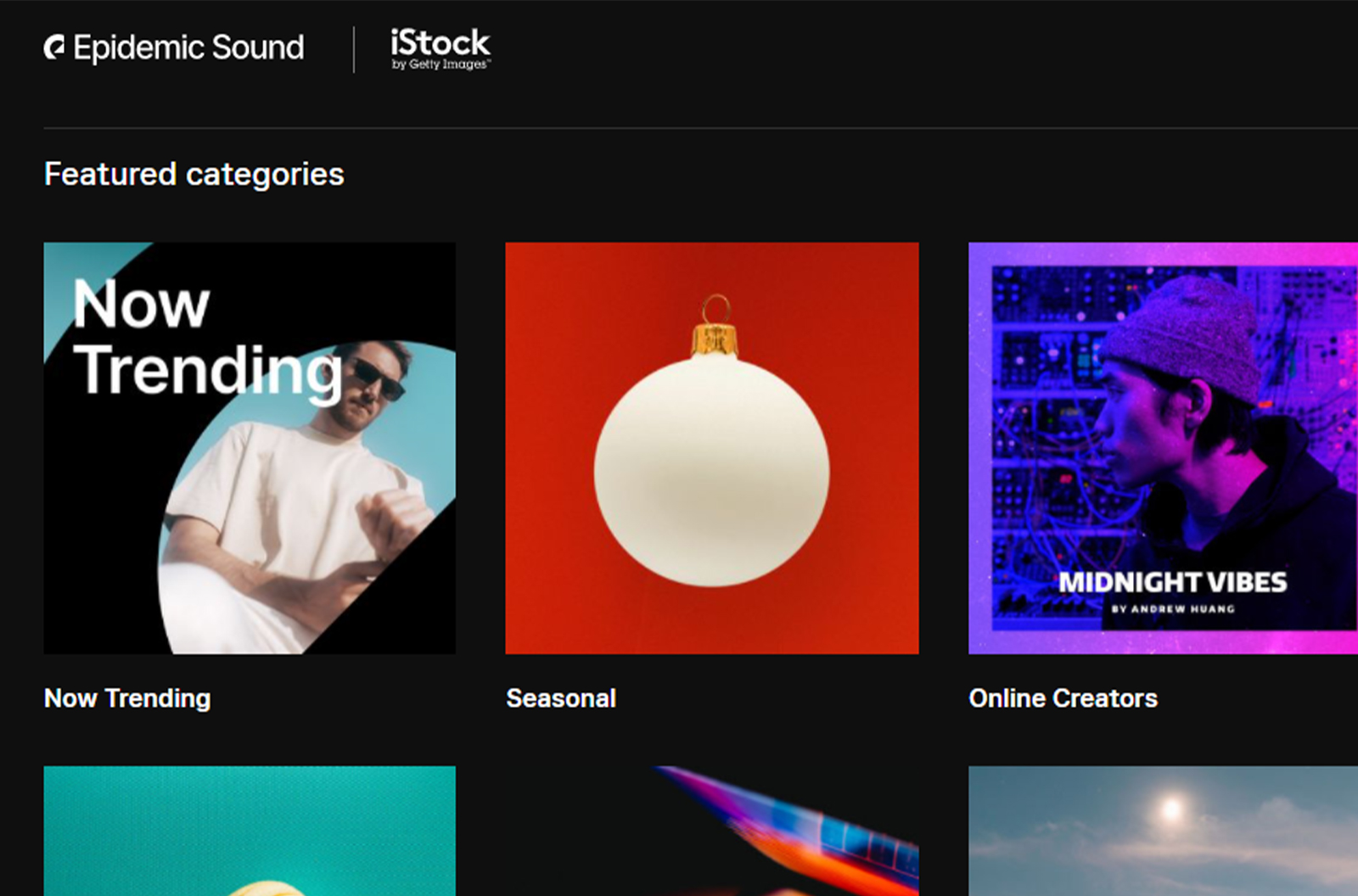 If you prefer, you can choose music based on its genre or mood.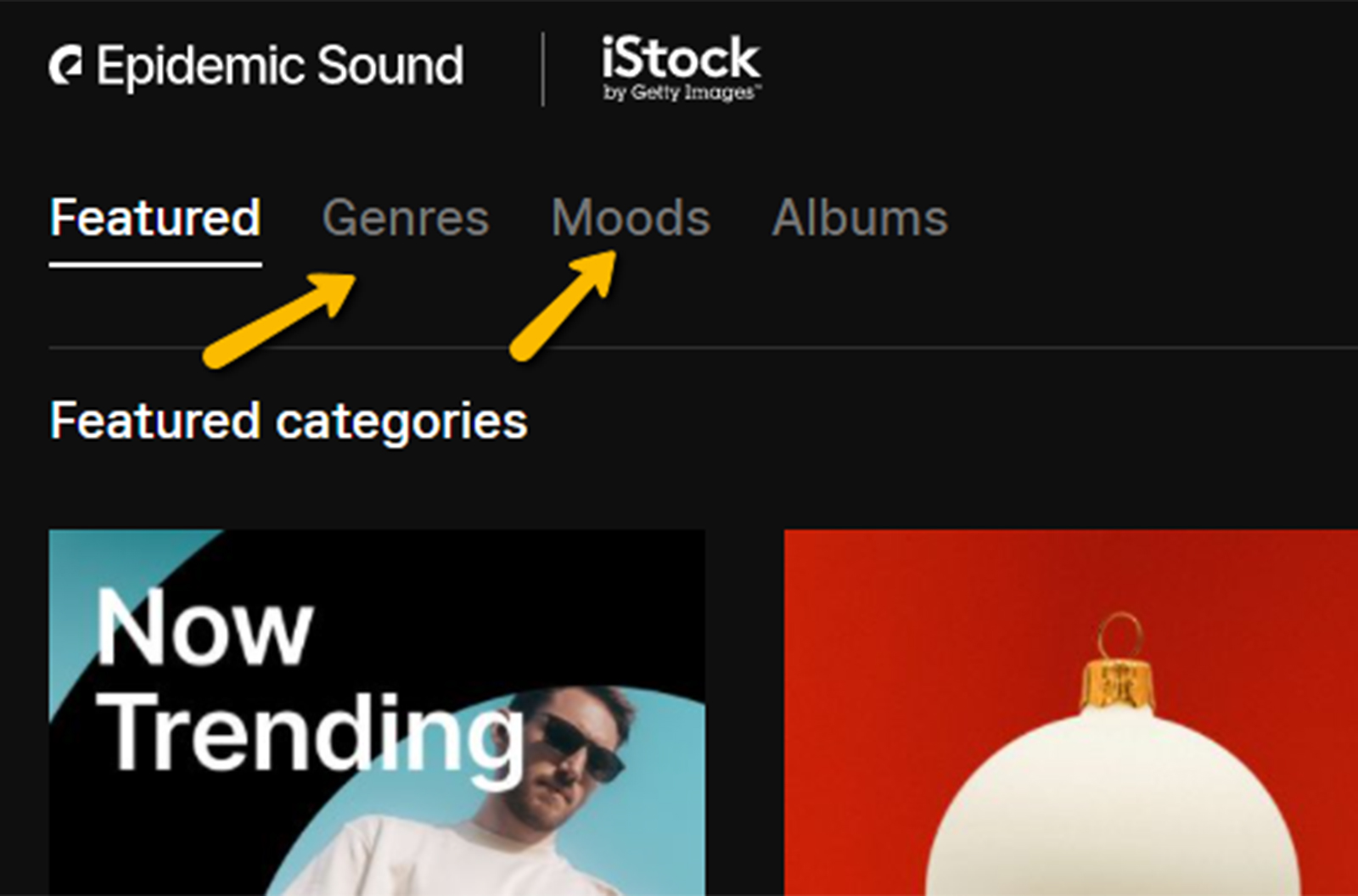 As you select the category you want, you will be shown the music in that category. If you choose the category "Now Trending" you will see something like the graphic below.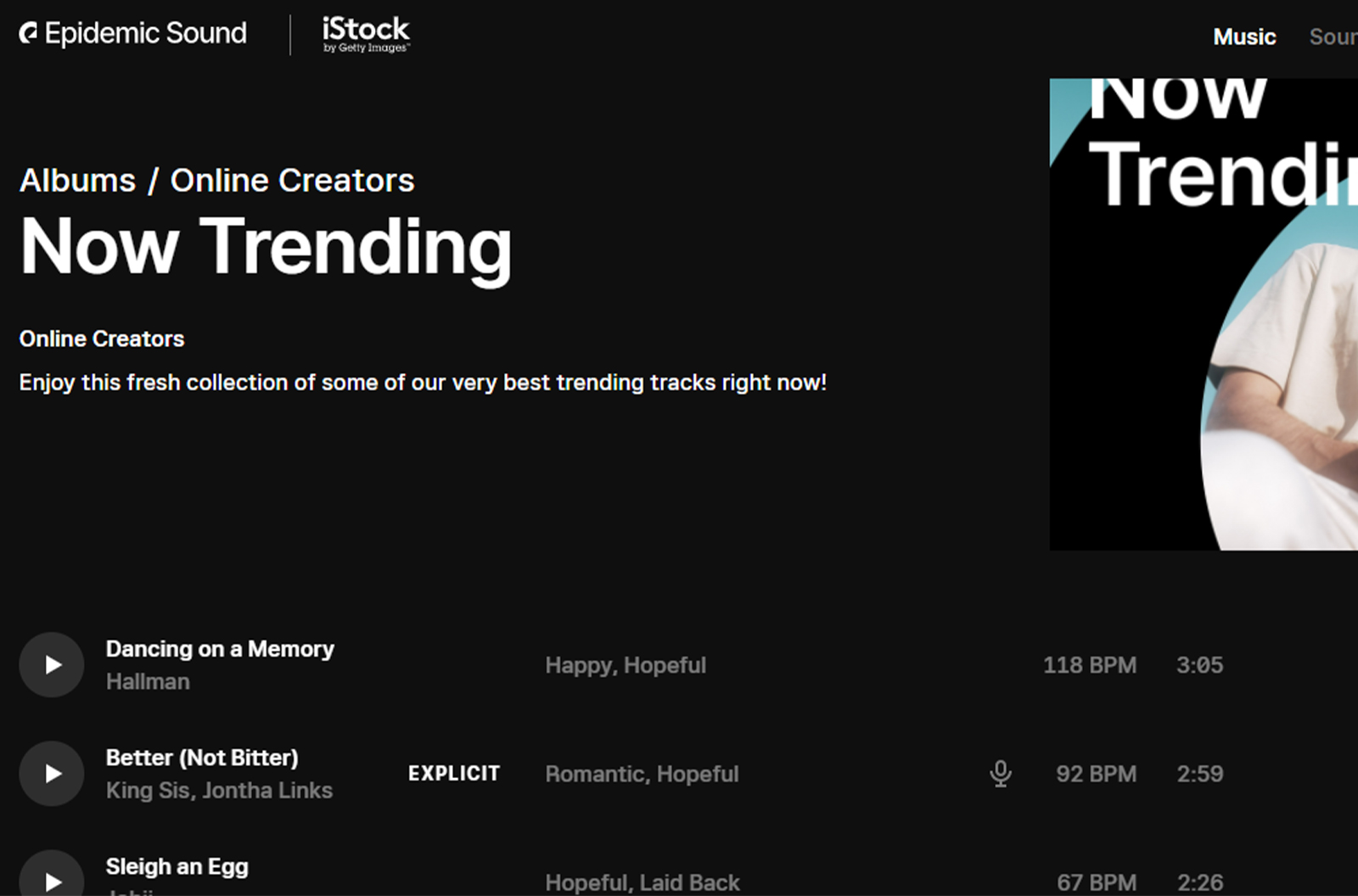 You can scroll down to find more music. Always pre-play the music to ensure it is precisely what you want. You can download the music, share it, add it to your playlist (should you have any on the platform), or use it to find similar soundtracks.
Interestingly, the music mood is also displayed to the right of the title to help you choose the specific emotion you want to add to your video.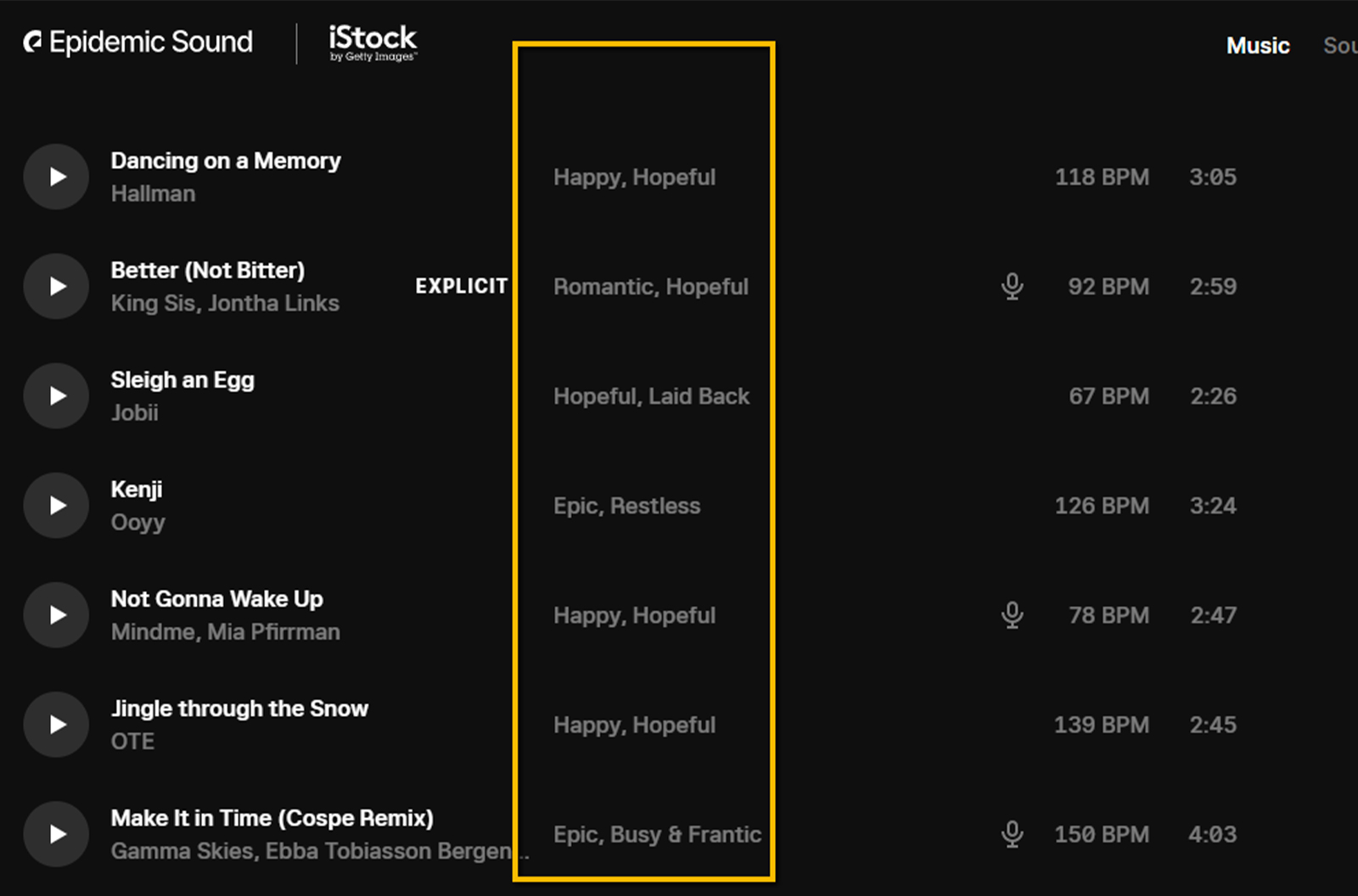 Also, the site offers sound effects you can leverage to make your videos more powerful. You can choose "Sound Effects" in the top right-hand corner of the page.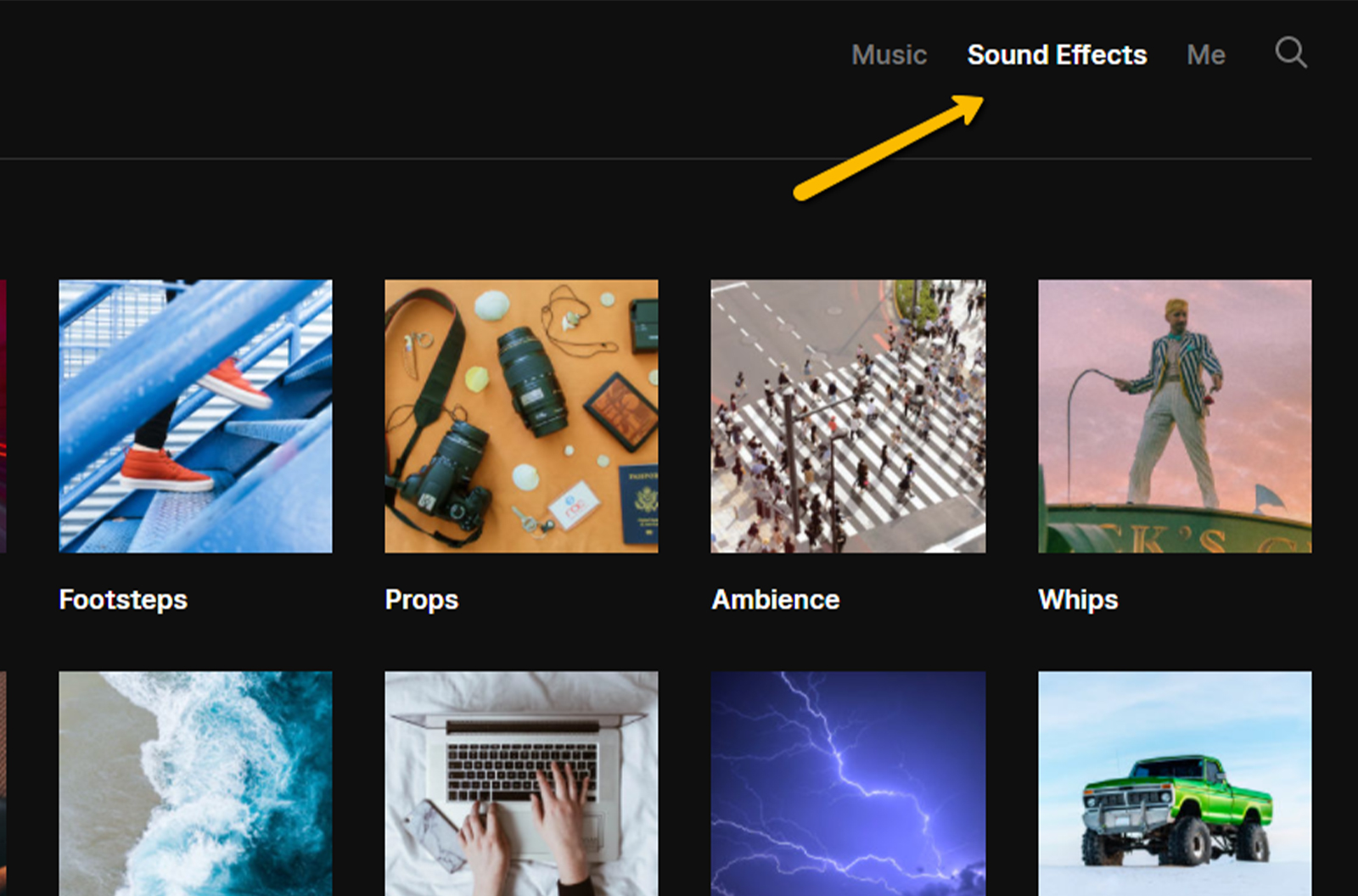 Here again, they are categorized to easily guide you through the process and make it easy to find the perfect sound effect. As you choose a category, you will be presented with the different sound effects available.
Leverage the iStock All-in-One Tool to Add Background Music to Your Videos
Unlike the native features on social platforms, iStock's suite of applications allows you to add professional, royalty-free background sounds that meet industry standards. And if you don't know where to start, iStock offers you a whole library of audio.
Was this article helpful?