How iStock Credits Work and What You Can Get
Whether you're looking for bold, brand-defining imagery on a budget, or you need industry-leading visuals that no one else has, iStock has you covered. The quickest way to get that imagery when you need it, as often as you need it, is by using credits. But what do those credits get you, how do you get the best price, and how big of a credit pack is right for you? We put together this handy breakdown to show you all the ins and outs of credits on iStock.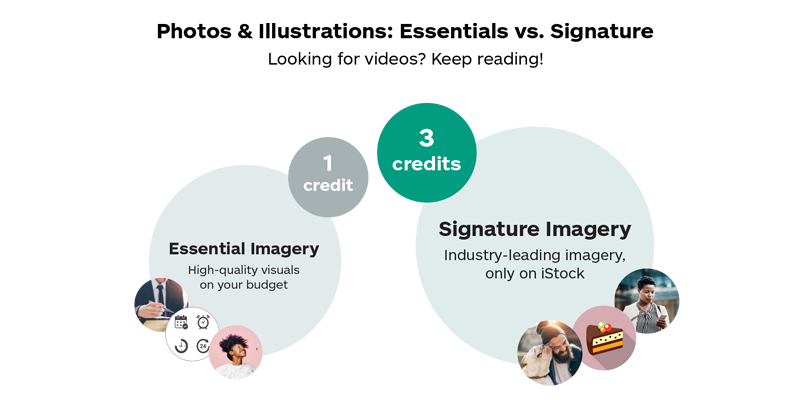 989117546, SARINYAPINNGAM | 964817056, Momento Design | 980390320, CarlosDavid.org | 934108632, supersizer | 480686079, lushik | 914839458, mapodile
The iStock library features image options that fit every budget, all created by our global base of contributors. If you have a tight budget, but still want quality visuals, go for Essential imagery for the most bang for your buck at only 1 credit. If you want something that you won't find anywhere else, go for the industry-leading Signature imagery for 3 credits.
Did you know

The bigger the credit pack, the more you save. Plus, credits never expire.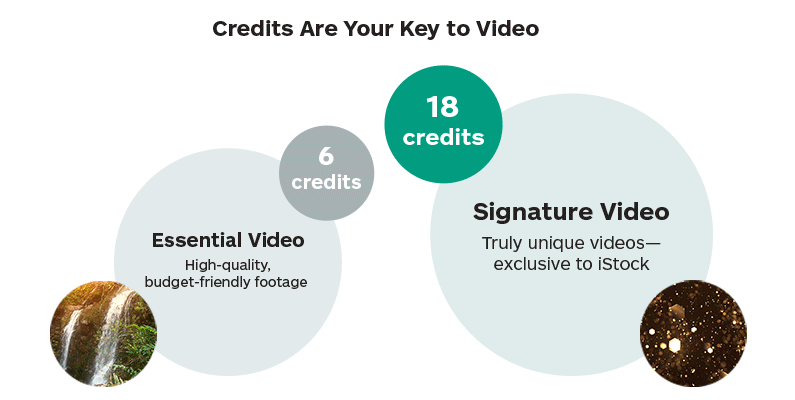 114119333, eyeidea | 882950204, DKosig
Including video footage in your work is one of the easiest ways to turn heads and grab attention. The iStock library features a huge selection of footage from industry-leading stock video to 360-degree perspectives and drone footage. Essential video costs just 6 credits and Signature video is 18.
Did you know

Credits are good for both 4K and HD at the same price, and those credits are the only way to get video
Ready to start downloading? Kickstart your projects with a curated board of travel photos, or the standout "Illustrations We Love" board for a more cartoony aesthetic. Or just dive in and start whatever search you want. And don't forget to visit the plans and pricing page to find another credit back when you run out—the bigger the pack, the lower the per-credit price. And as long as you log in to your account at least once a year, any credits you buy will never expire.
Was this article helpful?