Buying Stock Photos: How to Find and Choose the Best Stock Images
Using stock photography for your next project will save you both time and money, but when it comes to finding the best stock image, where you shop, and how you search makes a big difference. By understanding where to look and how to use keywords and search filters correctly, you will be able to find high-quality stock images to match your needs at a very reasonable cost.
Where Can I Buy Stock Photos?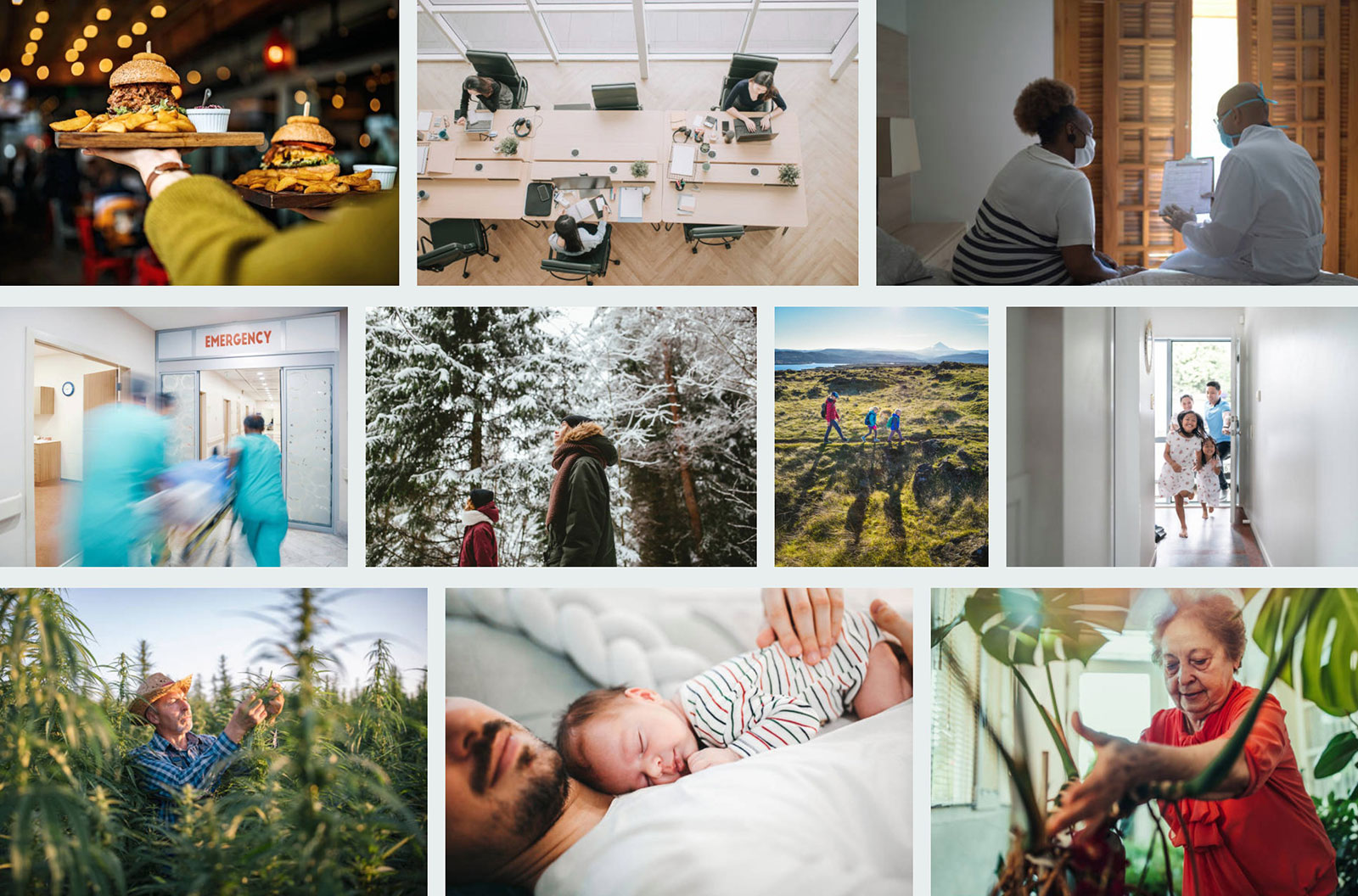 A premium stock content marketplace will give you the best selection of images that come with built-in licensing options and photo rights for creative and commercial use.
iStock offers users the ability to browse a massive database of quality-controlled images that are ready for immediate downloading. When you use a premium stock photo agency, you don't need to vet for technical quality or worry about how to obtain the legal rights to use the photo; the work has already been completed for you. Simply choose your image, download, and start designing.
How Much Is a Stock Photo?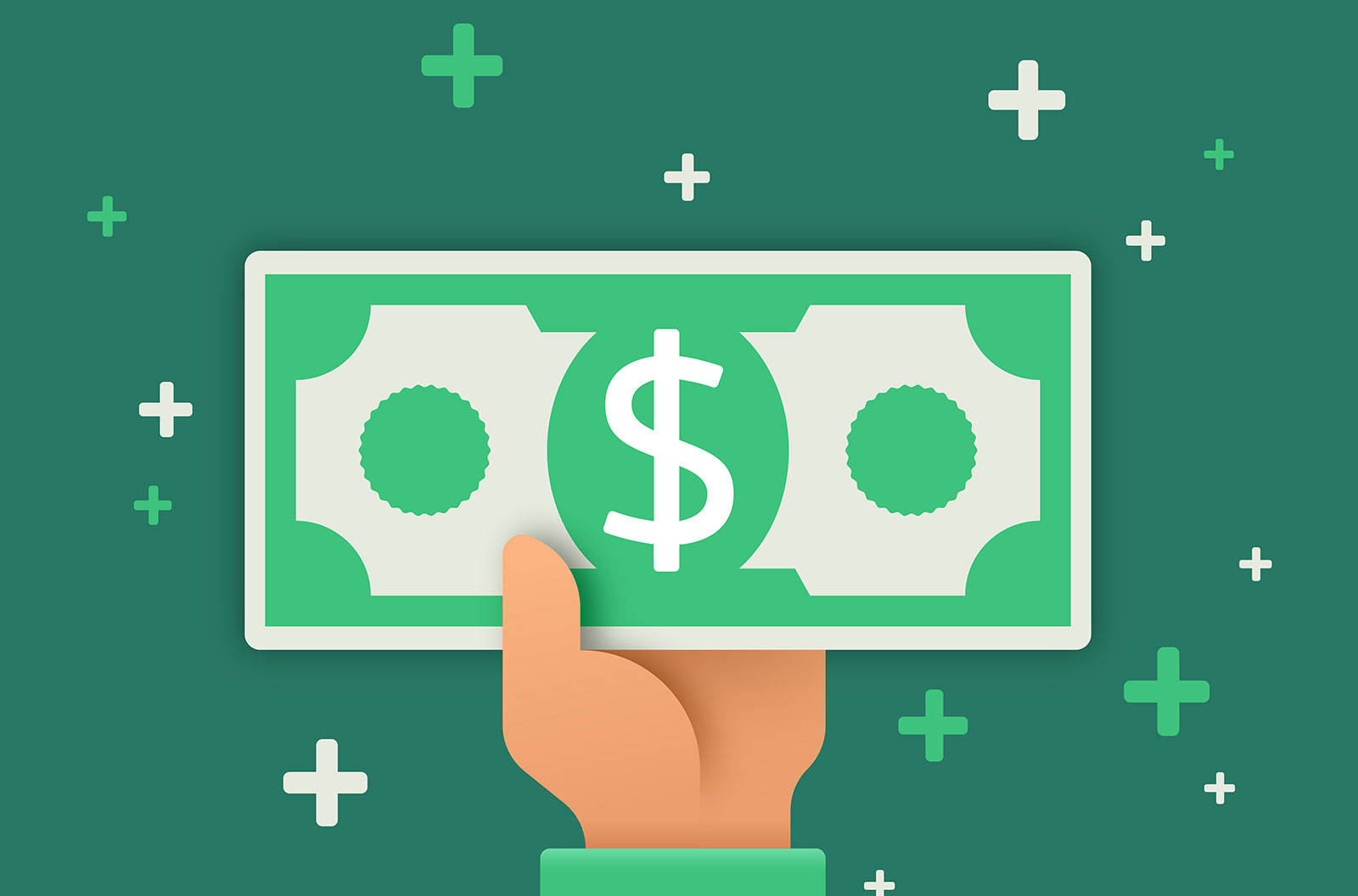 Stock photography prices vary:
If you're downloading a single image or multiple images,
Based on the license you are purchasing, and
Depending on the stock photo company you are using.
If you're downloading a single image, the cost per photo will be higher versus buying a credit pack that allows you to download multiple images at once. The more images you purchase, the less you'll pay per image. Many stock photo companies also offer a monthly subscription service that permits a higher quantity of downloads for a set monthly fee.
When considering the best option for your budget, think of both your current needs as well as any projects you may be working on in the future. If you need a single image for a one-off project, paying a slightly higher price for a single download may be the best option. However, if you shop for stock images frequently and download more than 10 stock photos per month, a stock photo subscription service will be a better fit for your long-term needs.
What Are the Different Licenses for Stock Photos?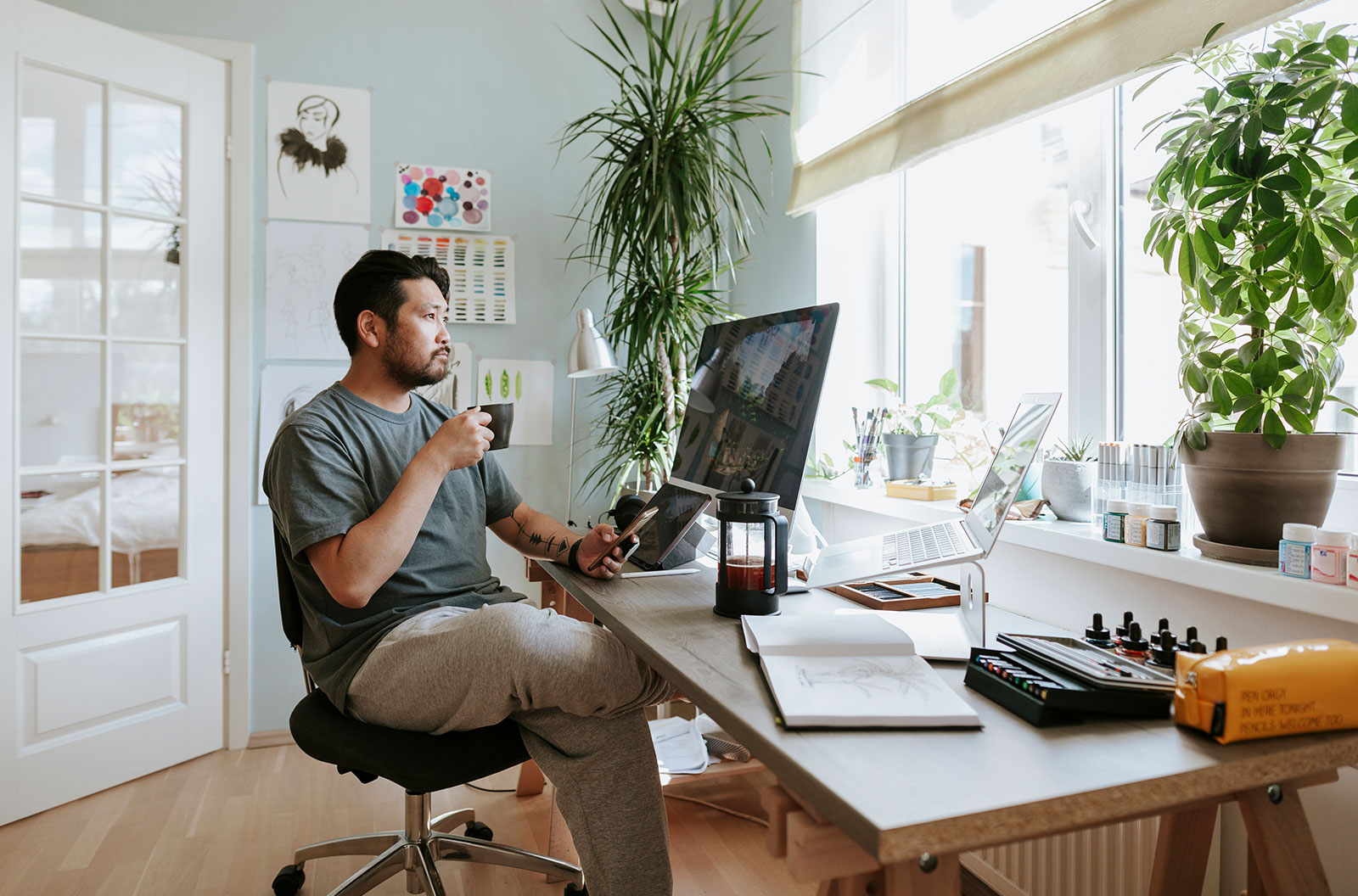 The different licenses for stock photos are broken down into two main licensing models.
Royalty-Free
A royalty-free license grants the nonexclusive and unlimited use of an image with very few restrictions. The licensed content can be used in company, website, or marketing materials, among other uses. A one-time payment to the licensor grants the user the right to use the image multiple times and for multiple purposes without the need to purchase additional licensing. As long as you aren't violating the terms of the license, you can keep the image on your website (or wherever else it's located) for as long as you want without worrying about legal ramifications. Royalty-free licenses are nonexclusive, meaning any number of people can access and use the same image repeatedly. Learn more about royalty-free image licenses in our beginner's guide.
Extended
An extended license allows for an image on commercially sold or for-profit items to be used more broadly and with fewer restrictions. This license is typically higher cost but does come with a wider variety of uses versus a rights-managed or royalty-free license. An extended use license would traditionally be used for projects needing flexibility.
Unlimited reproductions
Physical products for resale (posters, mugs, t-shirts)
Sharing files with employers, employees, or subcontractors
Digital templates for resale (e-greeting cards, website templates, brochure design templates)
What Type of Stock Photo License Do I Need?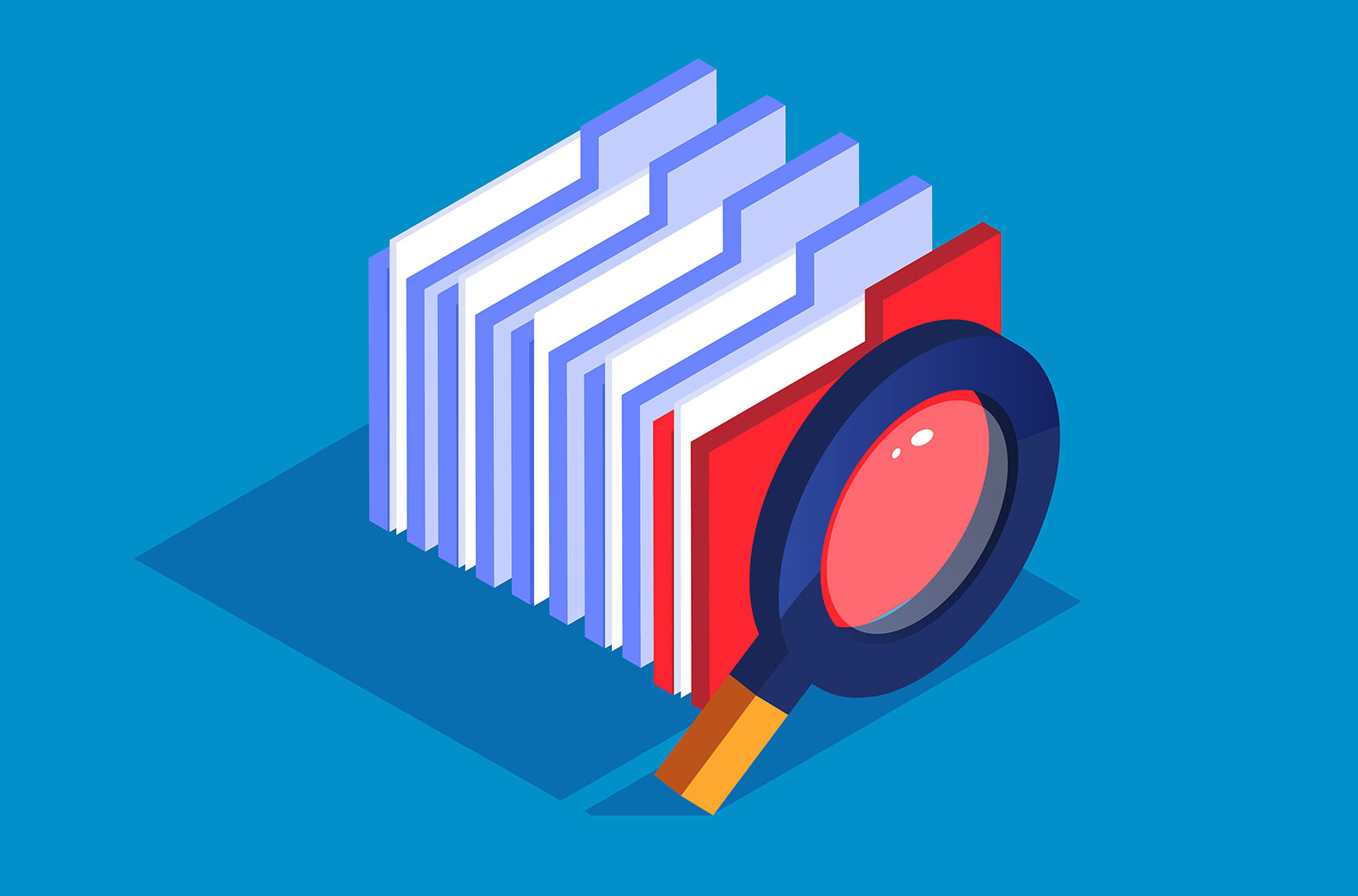 Before choosing a stock photo license, ask yourself the following questions.
How many times will I need to use this image or video?
How many times will the creative asset be printed or distributed?
Will this image be used on a T-shirt, poster, mug, or any other item that will be for sale?
Will I be reselling or distributing the creative asset?
Do I need the image to be exclusive and available only to me?
Is this image being used to help tell a story, cover a news event, or for educational purposes?
For ease of use, most premium stock photo companies offer two licensing options to customers: standard and extended. Which license will work best for you depends on your budget and how you need to use the images.
When you buy stock photos or creative assets from iStock, they come with a standard license that lets you use the files for any personal, business, or commercial purposes (within the restrictions of the licensing agreement). With this standard license, you can use the content for advertising, marketing materials, websites, social media, TV and film, presentations, newspapers, magazines and books, and product packaging. Extended licenses can also be purchased to allow for even more ways to use the content.
Every stock content marketplace will have a set of definitions and terms for determining creative versus commercial use, so it's important to always read the fine print on any licensing agreement to make sure you are operating within its terms.
How Can I Find the Perfect Stock Photo?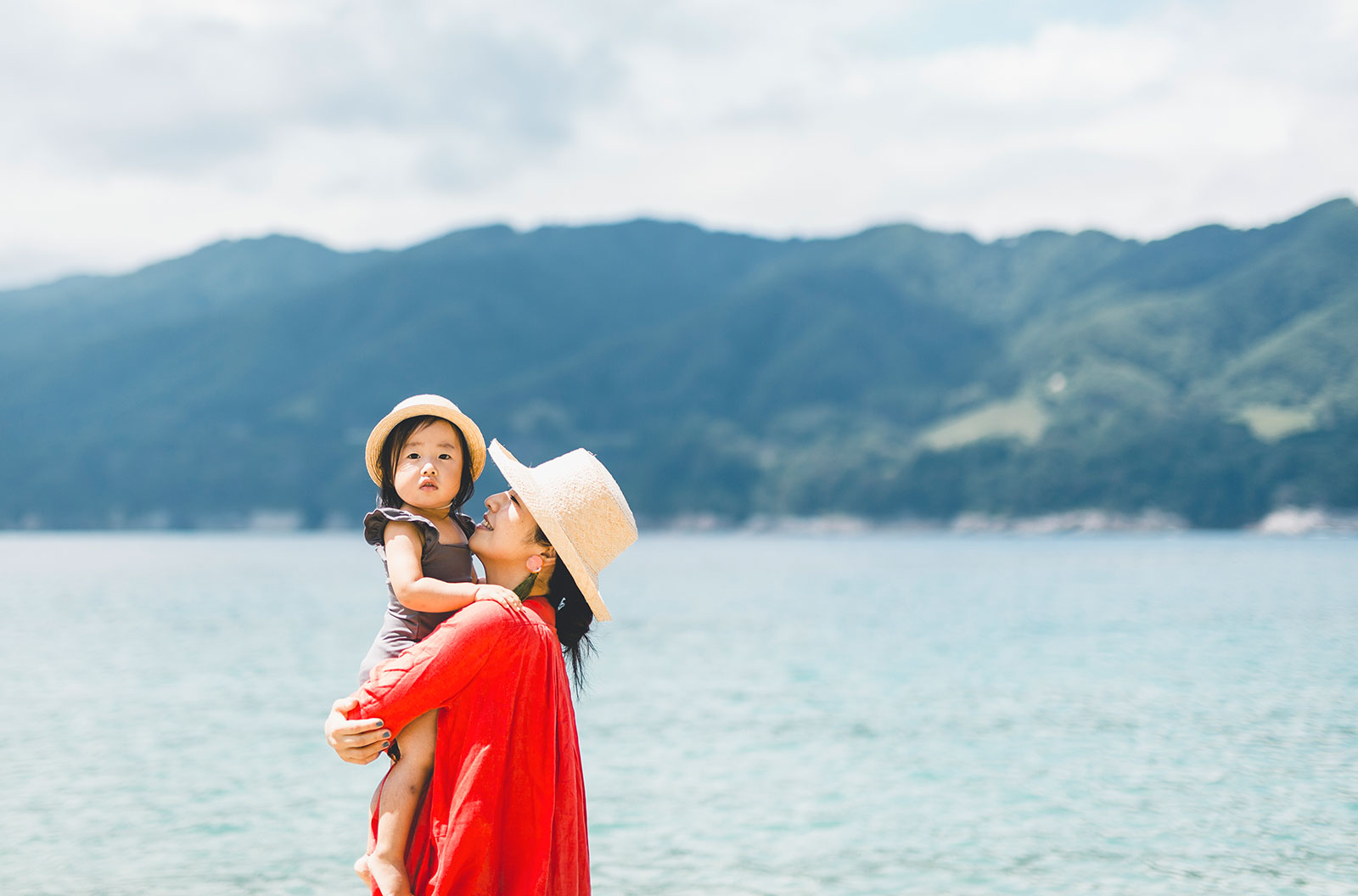 Finding the perfect stock photo from a huge library of resources can feel overwhelming, but there are many tips and tricks that can be used to quickly narrow down the best images for your project. Before beginning, here are some basic considerations to keep in mind when searching for your next stock photo.
Know Your Audience
Who do you want to connect to these images? What is the message you are trying to relay? Know your audience and make sure to choose images that speak intentionally to the viewer. Your stock photo choices should be carefully selected to reflect the message of your content and not added as an afterthought.
Look for New Images
Avoid selecting overused or generic stock photos by using the "upload date" search filter to discover the latest content available for your project. With thousands of new stock photos being uploaded every day, it is entirely possible to find beautiful imagery that feels fresh and original.
Seek out Emotion
Words are important, but an image speaks volumes. Look for stock photos that connect to the content and the viewer in a way that feels familiar and relatable. An image that shows genuine human emotion will be far more effective in telling a story than an image that looks too perfect or staged.
Use High-resolution, High-quality Images
Stock photos should match the quality of the brand and the content being produced. By investing in premium stock photography, you are relaying to the audience that the content is important, valuable, and worth a viewer's time.
How to Use Advanced Search Filters to Find Stock Photos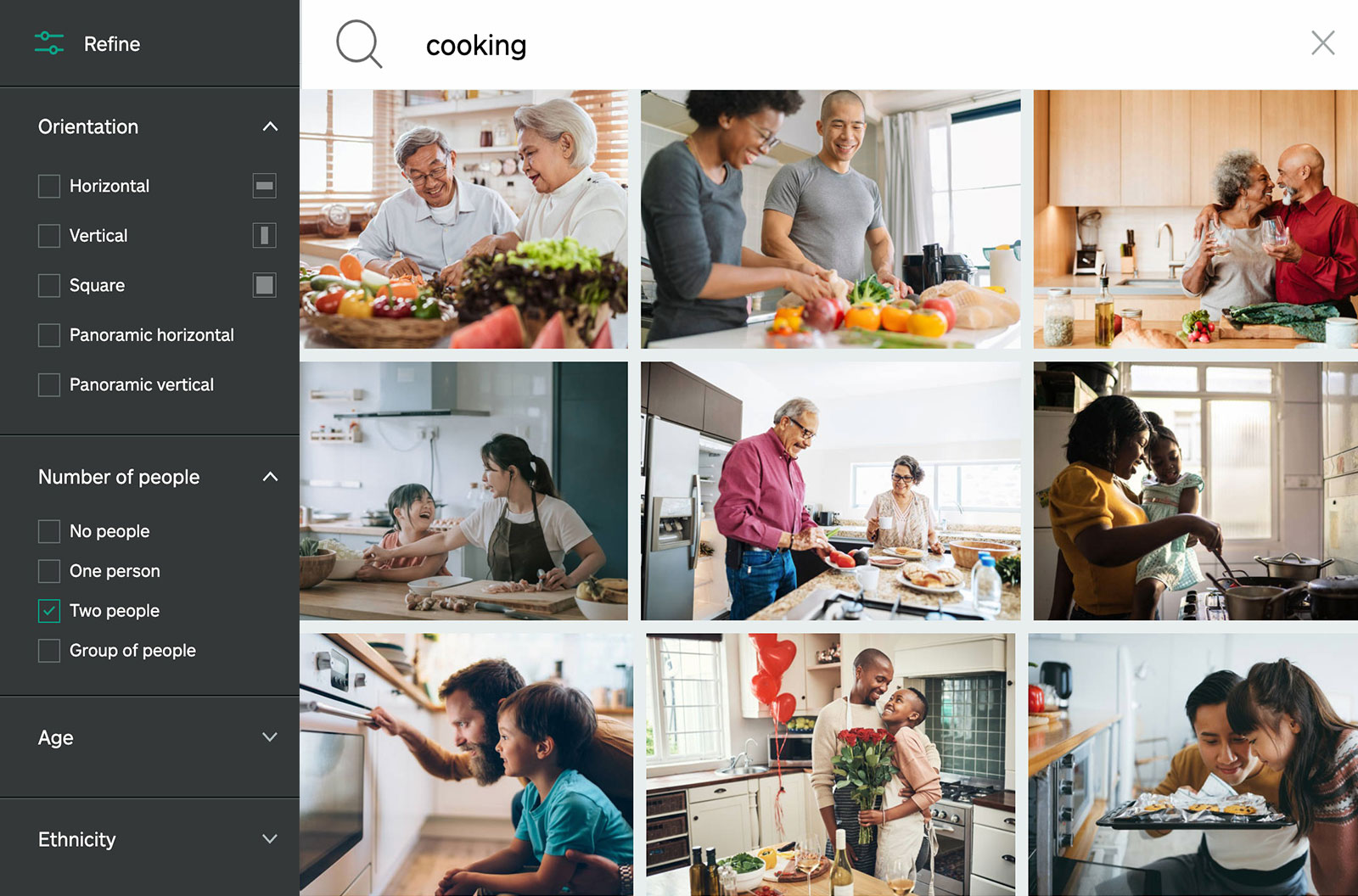 Cooking Search with Two People Filter
Premium stock photo services like iStock come with the ability to set strict search parameters and quickly filter down to the images that will best fit your project needs:
Sort-by Filter
Using this filter, you can prioritize which images will show up in your search results by selecting one of three categories.
Best match
Newest
Most popular
"Best match" will suggest images that are the closest subject match to your keywords, while "Newest" and "Most Popular" will be filtered according to image time on the site and download popularity.
License Type
Images will be filtered based on two license types.
Orientation
If you know your image needs to be a set orientation to work for a project, you can select one of several options before starting your search.
Horizontal
Vertical
Square
Panoramic horizontal
Panoramic vertical
Number of People
Filter by the number of people in the image from a single person to upwards of three for group images.
Color
If your website or brand materials feature a certain color scheme or theme, use the color filter to select a matching or complementary hex color. Search results will feature images that match or feature the selected hue.
Image Size
Filter by size to make sure the resulting images are the right resolution for your web design or printing requirements.
Upload Date
New images are constantly being added to stock photo libraries and can be filtered by time frames.
Any Date
Last 24 hours
Last 48 hours
Last 72 hours
Last 7 days
Last 30 days
Last 12 months
Filtering by "Any Date" will give you the highest number of search results while a filter of "Last 24 hours" will give you early access to newly uploaded content.
How to Use Keywords to Find Stock Photos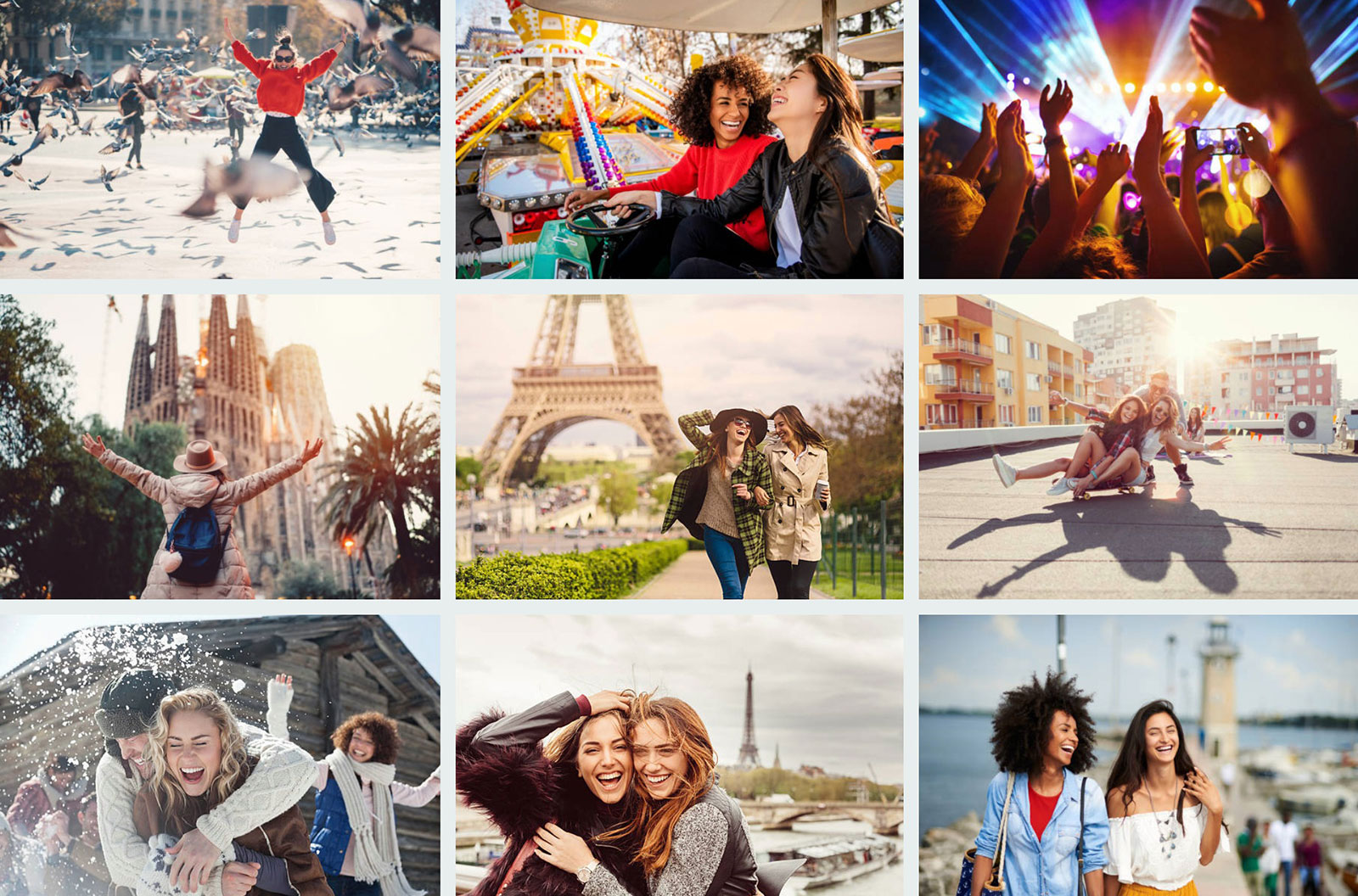 Search Result for "excitement female traveling Europe" Keywords
Understanding how to use keywords to find stock photos can allow you to quickly identify the perfect images and move on to the next stage of your project. The following techniques will help you get started.
Use a Combination of Keywords
With thousands of images to sort through, specific keyword searches work best. Think about what you need the image to portray or the content it will be supporting, and focus on words and phrases that match that intent. Select keywords that cover three or four categories.
An emotion
A person (try to match your target audience)
An icon or symbol
An action
A location, place, or event
Once you have selected your keywords, string them together into a single search query. For example, if you are producing a piece for recent college graduates on how to take a gap year, you may choose the following terms:
(emotion) + female (person) + traveling (action) + Europe (place)
This combination of keywords gives us these search results on the top of the first page.
Being intentional and specific with these keyword choices will enable you to find an image that resonates on the first try without having to sort through pages and pages of photos that don't connect with your audience or don't support your content message.
Stock Photo Keyword Examples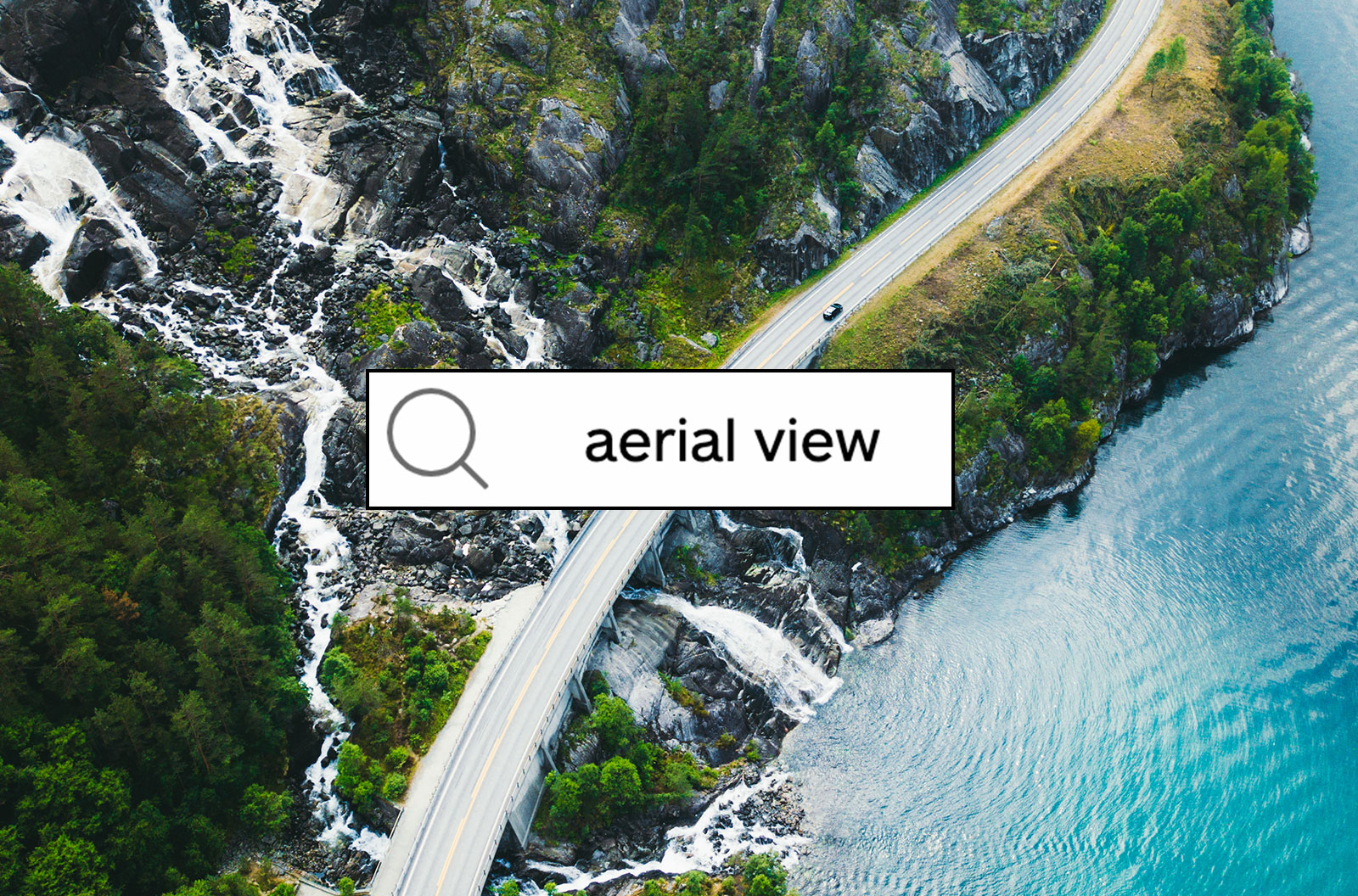 1211577048,Anastasiia Shavshyna
Maybe you have an idea what you want, but you can't quite describe it. Or, maybe you know exactly what search terms and phrases to use, but you want to see what other options are available. With so many different keywords and search phrases, it can be difficult to come up with the perfect word to reflect what you want the stock photo to convey. Use the following keyword examples as a reference to help brainstorm and inspire your next stock photo search.
Stock Photo Keywords for Emotions, Moods, and Ideas
Find keywords related to emotions, moods, ideas, and attitudes.
| | | | |
| --- | --- | --- | --- |
| Abstract | Happiness | Modern | Shy |
| Affectionate | Health | Mystery | Simplicity |
| Bossy | Humor | Nightlife | Slow |
| Cheerful | Ignoring | Nosy | Solitude |
| Content | Impatient | On the move | Success |
| Cooperation | Innocence | Out of context | Sulking |
| Displeased | Innovation | Playful | Tantrum |
| Distraught | Intelligence | Repetition | Terrified |
| Ecstatic | Journey | Resourceful | Togetherness |
| Environmental conservation | Leadership | Retro revival | Tranquility |
| Exhilaration | Loving | Revenge | Vitality |
| Failure | Luck | Risk | Wasting time |
| Friendship | Luxury | Safety | Worried |
| Furious | Mischief | Serene people | Zen |
| Gratitude | Miserly | Serious | |
Stock Photo Keywords for Topics, Events, and Interests
Find keywords related to events, issues, and interests.
| | | |
| --- | --- | --- |
| Banking | Finance | Romance |
| Business travel | Global business | Traditional culture |
| Capital cities | Life events | Travel destinations |
| Childbirth | Lifestyles | Vacations |
| City break | Population explosion | Winery tour |
| Ecotourism | Recession | Work |
| Education | Retirement | Working overtime |
Stock Photo Keywords for People
Find keywords by these subcategories: characteristics, generations, age, relationships.
Characteristics
| | | | |
| --- | --- | --- | --- |
| Asian | Brown hair | Obscured face | Working mother |
| Caucasian | Green eyes | Real people | Teacher |
| Latin American | Muscular build | Newlywed | Multi-ethnic group |
| Mixed race person | Redhead | Elementary student | Crowd |
| Balding | Toothy smile | University student | Biker |
Generation & Age
| | | | |
| --- | --- | --- | --- |
| Newborn | Pre-adolescent child | Young women | Mixed ages |
| Toddler | Early teens | Mid adult | 20s |
| Preschool age | Late teens | Mature adult | 30s |
| Child | Young adult | Senior adult | Forties |
| Elementary age | Young men | Senior couple | Baby boomers |
In Combination
| | | | |
| --- | --- | --- | --- |
| Young couple | Two generation family | Blended family | One mid adult woman only |
| Multi-generation family | Young family | One mid adult man only | |
Stock Photo Keywords for Image and Footage Styles
Find keywords by these subcategories related to styles, techniques, and industry-standard terms.
Photography Terms
| | | | |
| --- | --- | --- | --- |
| Aerial view | Full length | Multiple exposure | Surface level |
| Background | Horizontal | Outdoors | Urban scene |
| Black and white | Indoors | Rear view | Vanishing point |
| Close-up | Isolated color | Scenics | Vertical |
| Cross-processed | Lens flare | Single object | Wide angle |
| Copy space | Long exposure | Spiral | |
| Full frame | Low angle view | Studio shot | |
Footage Terms
| | | | |
| --- | --- | --- | --- |
| Crane shoot | Lockdown | Slow motion | Time lapse |
| Chroma key | Point of view | Real time | Scenic view |
| Establishing shot | Medium shot | Tilt down | Zoom in |
| Handheld | Rack focus | Tilt up | Zoom out |
Keywords to Find Variation of an Image
Include the following terms in your search to find the right variation of an image.
| | |
| --- | --- |
| To find images… | Use |
| Without people | "Nobody" |
| That are easy to outline or silhouette | "Cutout" |
| With eye contact from the model | "Looking at camera" |
| Where landscapes are the main focus | "Scenic" |
| That show diversity | "Multi-ethnic group" |
| Shot in a studio environment | "Studio shot" |
| That have room for text or other images | "Copy space" |
| That can be used behind text or other images | "Background" |
| Of people that don't look like models | "Real people" |
| Of public figures at press gatherings | "Press conference" |
| Of elections or political topics | "Election" |
| Of a specific sport or event (eg tennis, Wimbledon) | "Tennis" |
| Showing a wide-angle view of a stadium or arena, or action from a wider perspective | "General view" |
Now that you know how to choose the perfect stock photo, it's time to start searching. Browse the iStock database for thousands of stock photos, vectors, illustrations, and more.
Was this article helpful?